Five classic chick (action) flicks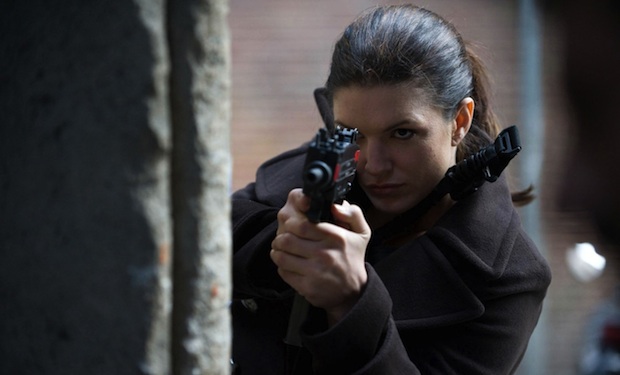 Posted by Matt Singer on
The term "chick flick" calls certain images to mind: moonlit kisses in the rain; awkward yet adorable first meetings between lovers; Katherine Heigl. If you're calling something a "chick flick," odds are you're doing it dismissively, as in "My wife is dragging me to that new chick flick." (NOTE: No one tell my wife I wrote that.) But "chick flick" is such a nice turn of phrase — it's short, it's memorable, it rhymes — that I think we ought to take it back. It should apply to all kinds of movies starring women, not just the ones featuring makeover montages or sassy best friends (or Katherine Heigl).
A perfect example is Steven Soderbergh's new movie, which opens in theaters this Friday. It's called "Haywire," but a more accurate title would be "MMA Fighter Gina Carano Beats the Shit Out of All of Hollywood's Hottest Young Male Stars." Carano (official MMA record: 7-1) plays Mallory, a secret agent for hire on a quest for revenge against her former employers. Getting that revenge means wiping the floor with Ewan McGregor, Channing Tatum, and Michael Fassbender, among others. It's not a "chick flick" as we've come to know it — it's closer to a Chuck Norris vehicle than a Sarah Jessica Parker vehicle — but maybe it should be. We could call it something like a "chick (action) flick."
Whatever you want to call it, "Haywire" belongs to a fine tradition of action films centered around strong, sexy women. Here are five of our favorites.
---
"Faster Pussycat! Kill! Kill!" (1965)
Directed by Russ Meyer
Russ Meyer's camp classic features a trio of busty, deadly woman on a go-go dancing, hot-rod racing rampage through the American Southwest. Meyer's vixens — Haji, Lori Williams, and especially the voluptuous, karate-chopping Tura Santana — square off against a male cast that is clearly outmatched, both mentally and physically, by their female counterparts. The film's opening narration, which accompanies images of bouncing sound waves (followed immediately by images of bouncing breasts) sets the tone as well as the connection between the pussycats' power and their sexuality ("Ladies and gentlemen: welcome to violence!"). No wonder John Waters called it the best movie ever made and "possibly better than any movie that will ever be made." Forty-five years later, I'm not sure any filmmaker has conclusively proven him wrong.
http://www.youtube.com/watch?v=mqnRok1Fvk0
---
"Coffy" (1973)
Directed by Jack Hill
Male superheroes have utility belts. Coffy has an afro. She uses it to hide all sorts of useful things, mostly famously razor blades, which come quite in handy — no pun intended — when she finds herself in the middle of a catfight with some grabby prostitutes. Coffy, as played by the charming and stunningly gorgeous Pam Grier, is like the prototype of the woman Gina Carano plays in "Haywire" — beautiful, deadly, kicked around by men, and on a righteous quest for revenge. Though Grier spends a fair amount of the film nude and/or in bed with an assortment of male co-stars, director Jack Hill is actually using the framework of an exploitation film to tell a story of feminine empowerment, of a woman who uses her sexuality to her advantage, and whose enemies are all symbols of patriarchal power: pimps, cops, and, politicians.
---
"La Femme Nikita" (1990)
Directed by Luc Besson
A secret government agency trains a junkie and convicted cop killer (Anne Parillaud) how to be an assassin — and how to be a lady. Their classes include marksmanship, computer hacking, and grooming. "There are two things that are infinite," Nikita's etiquette teacher instructs her. "Femininity and means to take advantage of it." After her training is complete, Nikita tries to balance her secret life as a deadly spy and her domestic life with a simple grocery clerk with mixed results, a nifty metaphor for the dilemma facing modern working women everywhere. Keeping the personal and the professional apart proves just as difficult as kidnapping an ambassador and stealing his secret files. The film is episodic and almost feels like the pilot of an ongoing television series, so it's no surprise that there have already been two different "Nikita" television series.
---
"The Heroic Trio" (1993)
Directed by Johnnie To
This Hong Kong superhero flick gets major demerits for dodgy wirework and a laughable plot (the version available on Netflix Watch Instantly also sports some absolutely horrendous English language dubbing). But that doesn't change the fact that it also boasts one of the greatest assemblages of woman warriors in movie history. Super-powered Shadow Fox (Anita Mui), and shotgun-toting biker chick Mercy (Maggie Cheung) team up to rescue a bunch of kidnapped babies from the hands of an evil sorcerer who wants to use them to bring about the resurrection of who the hell knows. Eventually, Shadow Fox and Mercy combine forces with the sorcerer's right hand lady, The Invisible Woman (Michelle Yeoh) and then all three have some absolutely spectacular fight scenes with the movie's heavy, a flying guillotine toting nutjob played by Anthony Wong. The Trio represent both beauty and brawn; after they win their climactic battle, they grab some flowing robes and do a slow-motion catwalk strut into the closing credits.
---
"Kill Bill: Volumes 1 and 2" (2003 and 2004)
Directed by Quentin Tarantino

The movie with so much asskickery it had to be split in two parts, first released in the fall of 2003 and the spring of 2004, respectively. Uma Thurman's The Bride is betrayed and left to die on her wedding day by the rest of her squad of professional assassins; over the course of Quentin Tarantino's two-part revenge saga, she ferociously repays the favor. "Kill Bill" is, in some ways, the apotheosis of Tarantino's film quotation aesthetic — the movie's IMDb movie connections page is almost as long as its screenplay. It combines themes, visuals, and motifs from all these other wonderful female action films — including "Thriller: A Cruel Picture," "Switchblade Sisters," and "The Doll Squad" — to create an experience that is arguably more fun than all of its influences combined.
http://www.youtube.com/watch?v=ekSwtVAXBsc
---
What's your favorite chick (action) flick? Tell us in the comments below or write to us on Facebook and Twitter.