Exclusive premiere: Bhi Bhiman "Time Heals"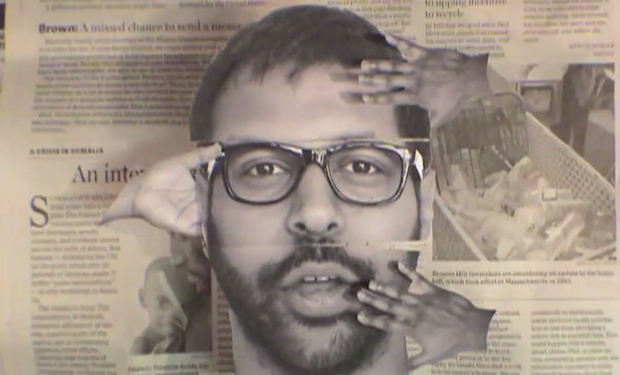 Posted by Brandon Kim on
Bhi Bhiman was named by his parent's after a central character in the ancient Indian text, The Mahabharata, but the songs on his magnificent debut are unquestionably rooted in Americana. On his forthcoming album, "BHIMAN," he sings a song about a North Korean prisoner in"Kimchee Line," but it sounds as if it were written while sitting on the Mason–Dixon Line and his song "Guttersnipe" was turned into "Darjeeling Limited" meets "Slumdog Millionaire" video, but the song's just as fitting for train jumping Bay Area hobo.
Playing on the cinematic nature of Bhiman's music, Liam Hurley and Sam Kassirer (producer of BHIMAN) had an idea to make a "moving collage" involving a deconstruction of Bhi's face mixed with other found media for "Time Heals." The two dimensional stop motion began with a photo shoot taking over 600 photographs of Bhiman, which were then cut up and moved subtly over roughly 4,000 shots of animation.
"We were drawn to the theme of time in this song, with a concept of 'moving collage' in mind," Hurley and Kassirer said. "The discrete sections and tempo changes lent an air of theatricality, over which Bhi's powerful voice serves to unite all the 'acts.' Although newspapers traditionally serve to mark a specific point in history, in this case they were used to emphasize the viewers sense of timelessness, something Bhi's music does so well."
video player loading
.
.
.
"BHIMAN" is out Jan 24th, on Boocoo Music. Let us know what you think of his sound in the comments below or on Twitter or Facebook!