Evangeline Lilly elaborates on "The Hobbit" and her character's expanding role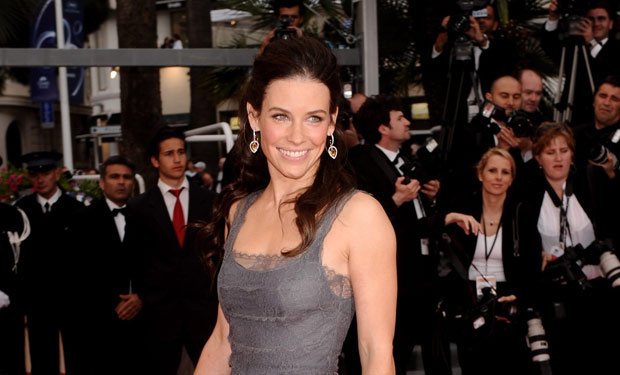 Posted by Rick Marshall on
"Lost" actress Evangeline Lilly has been making the press rounds lately due to the home-video release of "Real Steel," but the film everyone's asking her about involves dwarves, elves, and dragons, not robots.
In Peter Jackson's upcoming two-film adaptation of "The Hobbit," Lilly plays Tauriel, an elf from Mirkwood Forest who plays an unknown role in the story — mainly because she was created for the film and not a character pulled from J.R.R. Tolkien's original story. Besides assurances that she won't have a romantic link to Legolas (the elf played by Orlando Bloom in "The Lord of the Rings," and the son of Mirkwood's king), there's little known about Lilly's character thus far.
In an interview with Entertainment Weekly, Lilly offered a few more details about Tauriel's role in the film, and the long production schedule that keeps her in New Zealand for "The Hobbit."
"She is a warrior," said Lilly of Tauriel. "She's actually the head of the Elven guard."
"She's the big shot in the army," she continued. "So she knows how to wield any weapon, but the primary weapons that she uses are a bow and arrow and two daggers. And she's lethal and deadly. You definitely wouldn't want to be caught in a dark alley next to Tauriel."
In the original story penned by Tolkien, the elves of Mirkwood feature prominently at three different points. They're first glimpsed by Bilbo Baggins and the company of dwarves early in the story, then play a major role midway through the adventure that puts them at odds with the dwarves, and finally serve an even larger, more action-oriented role in the climax of "The Hobbit."
When asked how much of the film Tauriel will factor into, Lilly provided a few more details that could serve as hints to anyone familiar with the film's source material.
"She's not in the first film very much," said Lilly of her presence in "The Hobbit: An Unexpected Journey." "She comes into the first film near the end, and has a very small part to play."
However, her role in "The Hobbit: There and Back Again" is significantly larger, according to the actress.
"Her role in the second film is much more involved," she said. "Although, I have to say, when I first read the scripts and took the job, she had a lot less going on in the second film. I think the role is becoming a bit more demanding that I had expected it to be. There's a lot more for me to do now, which is a lot of fun, but it's a little more pressure."
Asked whether she plays a role in the story's climactic battle, Lilly said she hasn't been told much about her role in those upcoming scenes yet, and with five more months of filming left to go, there's still a lot of story to bring to the screen.
"It's a two-year shoot in total for both films, and my contract had me blocked off for about a year," she said of her "Hobbit" experience, which has already involved six months of shooting. "I come in and out of New Zealand throughout that year."
What do you think Tauriel's role will be in "The Hobbit" films? Chime in below or on Facebook or Twitter.