First trailer for "Doctor Who: The Eternity Clock" video game debuts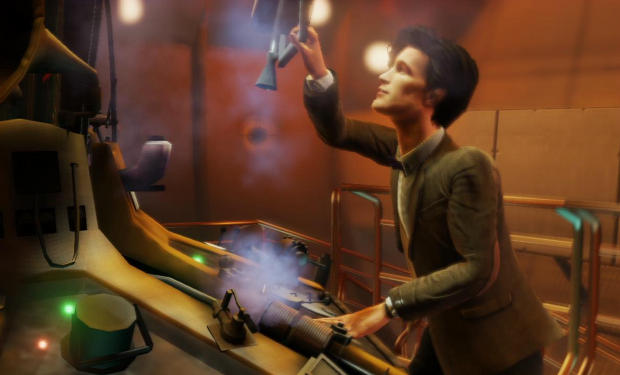 Posted by Rick Marshall on
Whovians rejoiced last week when the first image from "Doctor Who: The Eternity Clock" arrived online, and now there's even more reason for celebration among "Doctor Who" fans with the debut of the game's first trailer.
Posted over on the official PlayStation Blog, the first trailer for "The Eternity Clock" puts the spotlight on the aliens the famous Time Lord — and his companion, River Song — will be battling across time and space. The 85-second video also offers the first look at the gameplay mechanics, which look to be set firmly in the linear, platformer style.
According to Simon Harris, Executive Producer on the game for BBC Worldwide, the four alien races that will challenge The Doctor and River will include the modern-era villains known as The Silence, as well as classic villains Cybermen, Silurians and Daleks. In some cases, the aliens will even receive a few tweaks that the television series' team intended to make, but were never able to fully realize on the show.
"The art team at Supermassive were getting really positive feedback on how the monsters looked, which was great, and the Doctor Who team then asked if we could make some changes that deviated from the reference photos," wrote Harris. "It turns out that there were a number of small tweaks which the team would have loved to make to the designs of the monsters on the show, but had been unable to for various reasons. At this point they saw the opportunity to make these tweaks in our monster designs. Of course, we were more than happy to include these amendments."
In the new video, all four races are represented, and after we see The Doctor and River running, jumping, climbing, and elevator-riding their way around the game's environment, the trailer closes to the tune of an impressively creepy children's song.
Oh, and Harris also mentions that The Silence were added later in the development process, and prompted the removal of a different alien threat — something he promises will make an appearance "in a future game." Our money's on the Weeping Angels.
Here's the trailer:
"Doctor Who: The Eternity Clock" is scheduled to hit shelves in March for PlayStation 3 and Playstation Vita.
What do you think of the trailer? How about the aliens they chose for the game? Chime in below or on Facebook or Twitter.