"The Dark Knight Rises" toy reveals name of Batman's flying vehicle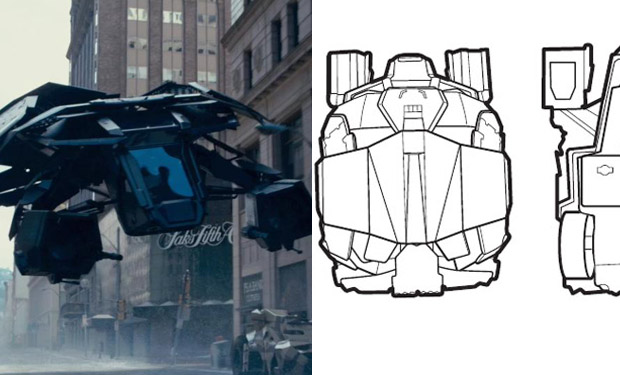 Posted by Terri Schwartz on
Remember that epic flying vehicle spotted in "The Dark Knight Rises" trailer that we were all oohing and ahhing about? Well, turns out it isn't the Batwing like most fansites were saying. It's actually called "The Bat". And, as it was with the recent "The Amazing Spider-Man" Mega Blocks and Pez Dispenser boxes, it was toys that gave away the big reveal.
Wireless Goodness posted some filings that Hot Wheels made to the FCC recently that include plans to make a toy based on The Bat. Unfortunately, it won't fly like it will in the movie, but the toy will be remote controlled and have wheels.
Hot Wheels also filed paperwork for three other Bat-Toys. There will be a remote controlled Tumbler, Bat-Pod motorcycle, and what Wireless Goodness describes as "a tank-like vehicle." And for those of you nourishing dreams of driving these babies around, we have to break the sad news to you that they're actually supposed to be relatively small in size.
"The Dark Knight Rises" is due out in theaters on July 20. Directed by Christopher Nolan, the film stars Christian Bale, Anne Hathaway, Morgan Freeman, Michael Caine, Tom Hardy, Joseph Gordon-Levitt, Gary Oldman and Marion Cotillard.
Do you think "The Bat" is a cool enough name for this vehicle? Tell us in the comments section below or on Facebook and Twitter.