"The Dark Knight Rises" Catwoman statue provides full costume details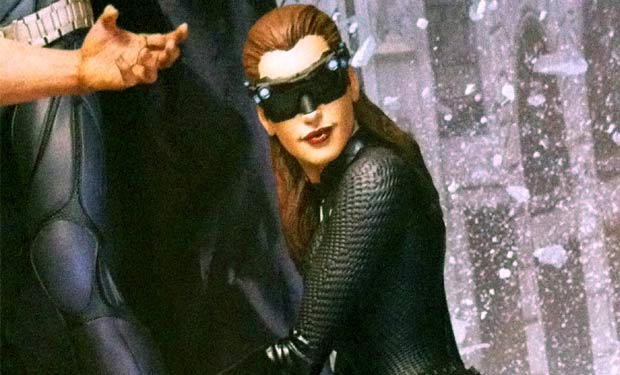 Posted by Terri Schwartz on
It seems like it's always the toys giving away some of the big surprises in the superhero universe right now. Such is the case with "The Dark Knight Rises," as leaked Hot Wheels filings revealed that the flying vehicle in the movie will be called The Bat and, now, the full Catwoman costume — and its many additional assets — has been revealed.
Toy blog Idle Hands snapped some photos of the figurine offerings from DC Direct while they were at Toy Fair 2012, and the most exciting statue among them — at least for we "The Dark Knight Rises" fans — was the 12″ shot of Catwoman crouching on the ground.
There are two big reveals in this that have been teased in the past about Catwoman's outfit. First, her thigh-high boots with silver stiletto knife-heels. The woman knows how to make even the most impractical boots now seem practical. And second, between this statue and some of the other busts and figurines Idle Hands reveals, we get to see how Catwoman's goggles flip up to turn into her "cat ears." Again, practicality over style.
This backs up what Anne Hathaway said about the Catwoman outfit back in December. She said that haters of the costume could keep on hating, because the outfit was probably the most intelligently designed one in the entire Batman movie canon.
"I love the costume," Hathaway said in an interview with Hero Complex. "I love the costume because everything has a purpose, nothing is in place for fantasy's sake, and that's the case with everything in Christopher Nolan's Gotham City."
Do you like Catwoman's outfit more now that you have seen it all? Tell us in the comments section below or on Facebook and Twitter.