"The Dark Knight Rises" Bane dialogue reportedly improved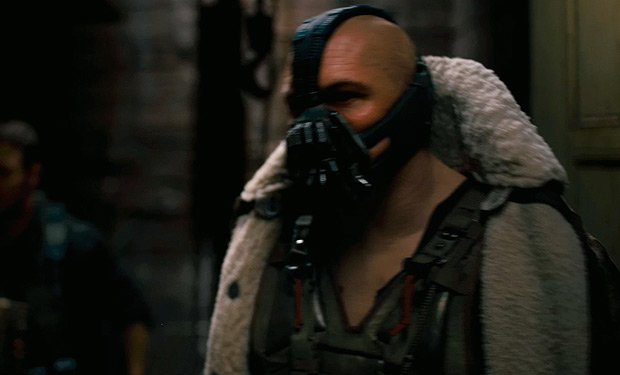 Posted by Terri Schwartz on
It seems like Christopher Nolan's New Year's resolution might have been to allow audiences to hear his main villain in "The Dark Knight Rises." Following the release of the film's six-minute prologue before "Mission: Impossible — Ghost Protocol" and its subsequent trailer, the main complaint from viewers and critics was that it was impossible to understand Tom Hardy's dialogue as baddie Bane. Warner Bros was said to be understandably worried, but Nolan went on to reportedly say that he had no plans to change the audio in the movie because he didn't want to make the film-going experience easier on his audience.
The problem was that a mask covers Hardy's face, making his dialogue muffled and difficult to understand. One critic said he "only picked up about 10 percent of what [Bane] said" during the prologue. Nolan reportedly wanted his audience to "pedal faster to keep up" in the flick, but a new report says that he might have finally caved on this whole fiasco.
A source contacted Collider to say that his friend who works at IMAX received a new soundtrack for "The Dark Knight Rises" prologue a few days ago. Instead of re-dubbing Hardy's lines, the source said that the background noise on the plane and "other things" has been lowered, "making Bane's dialogue clearer and more understandable." Apparently it's not 40 to 50 percent easier to understand Bane than when the prologue was first released. When people were asked about the new audio after they left the theater, the source said they had no issue understanding Hardy.
Collider later received an e-mail that seems to confirm the story their source tells them. The e-mail included a photo of a letter send to IMAX projectionists that says a "new DTAC soundtrack for your Dark Knight Prologue married to Mission Impossible 4 presentation" was sent to them. This all sounds like a fair compromise between Nolan and Warner Bros. It would seem to be a foolish move to release a film where the villain is nearly illegible to the audience — but not the characters onscreen — so at least now it seems like it will be easier to understand Bane without the entire process being made easier for audiences.
Have you heard the new audio for the prologue? Are you glad it's been changed to have clearer audio? Tell us in the comments section below or on Facebook and Twitter.