Cuba Gooding Jr. and "Red Tails" cast describe the vision of George Lucas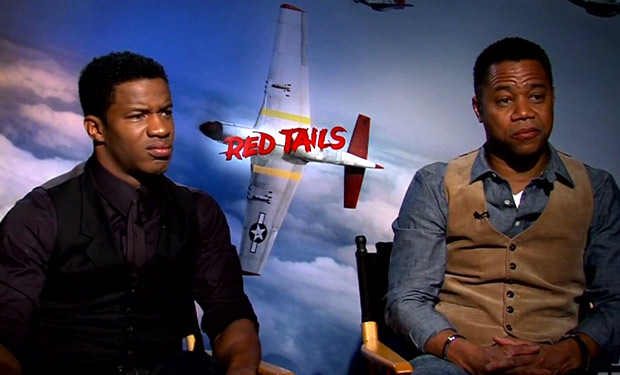 Posted by Rick Marshall on
The arrival of "Red Tails" in theaters this weekend marks the conclusion of a project more than 20 years in the making, with George Lucas first pitching the film around Hollywood back in the late '80s. His take on World War II heroes The Tuskegee Airmen will finally premiere two decades later, offering a dramatic look at the first crew of African-American aviators in the U.S. armed forces.
When IFC sat down with some of the "Red Tails" cast to discuss the film, they had a lot to say about Lucas' involvement as the film's longtime shepherd and producer, as well as the vision he and director Anthony Hemingway shared for the film.
video player loading
.
.
.
"You knew exactly what [Lucas] wanted," said Nate Parker, who plays the team's flight captain, Martin "Easy" Julian. "The whole thing with 'This our mission' [and] 'Let's stay on mission' between Anthony Hemingway and George Lucas kept us so focused on what the end product would look like, [that] it allowed us to have this huge scope, and to have the detail to make the film what it was."
And while "Red Tails" is the most high-profile film for many of its young cast members, some of the actors featured in the film have occupied similar roles in the past — including prior films based on The Tuskegee Airmen.
For Cuba Gooding Jr., who plays Major Emanuel Stance in the film, "Red Tails" is his second time playing one of the famous team of airmen. He previously played one of the pilots in the made-for-television HBO movie "The Tuskegee Airmen."
During the press junket for the film, he discussed the unusual repeat role and how it differed this time around. As you might expect, a lot of that difference had to do with Lucas' involvement in the project.
"This one had the might and power that is George Lucas behind it, with all of his financing and his artistry," said Gooding. "The first ['Tuskegee Airmen' movie] dealt more with the racism they had to deal with in Tuskegee, Alabama. This one was a celebration of their participation during the war effort."
And on top of that, Gooding said the immersive nature of "Red Tails" will certainly set it apart from previous films about The Tuskegee Airmen — and other war movies, for that matter.
"You watch 'Red Tails' and you feel like you're in a P-51 Mustang flying over the skies of Berlin," he laughed.