Chuck Norris cleaning up "The Expendables 2" for PG-13? [Updated]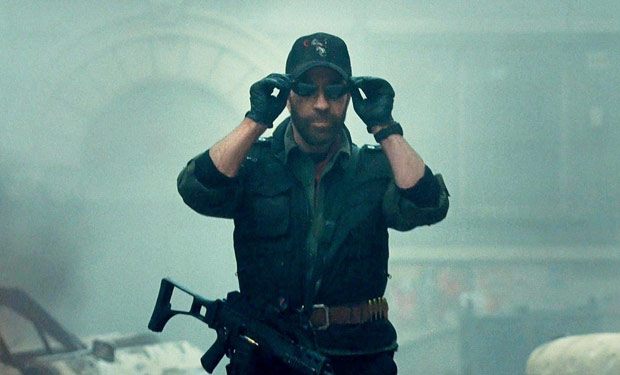 Posted by Terri Schwartz on
[Update:confirmed to AICN that the film will indeed be PG-13. According to Sly: "The PG13 rumor is true, but before your readers pass judgement, trust me when I say this film is LARGE in every way and delivers on every level. This movie touches on many emotions which we want to share with the broadest audience possible, BUT, fear not, this Barbeque of Grand scale Ass Bashing will not leave anyone hungry."]
Rumor alert patrol here. There's a story making its way around the Internet saying that Chuck Norris is demanding "The Expendables 2" be rated PG-13 instead of R because he doesn't feel comfortably with all the naughty language in the movie. It certainly would be an interesting development for the Sylvester Stallone-backed flick, but is it true? We're not sure.
The story comes from an interview Norris did with Polish newspaper Gazeta. Expendables Premiere translated the interview, and this is the quote that started it all:
"In 'Expendables 2,' there was a lot of vulgar dialogue in the screenplay. For this reason, many young people wouldn't be able to watch this. But I don't play in movies like this. Due to that I said I won't be a part of that if the hardcore language is not erased. Producers accepted my conditions and the movie will be classified in the category of PG-13," he reportedly said.
This certainly does seem like it would be Norris' stance on the issue. And, if Lionsgate were to lower the rating, it would open the doors for the movie's teenage fans to be able to see it in theaters (read: more money). But by toning down the outrageous language and violence, it seems like "The Expendables 2" would be losing a lot of what made the first film great. In the end, it might comes down to which is deemed more important: the film's line-up of action stars or its bad language.
Insert necessary Chuck Norris joke here.
Would you want to see a PG-13 rated "The Expendables 2"? Tell us in the comments section below or on Facebook and Twitter.