"The Chemical Brothers: Don't Think" is a feast for the mind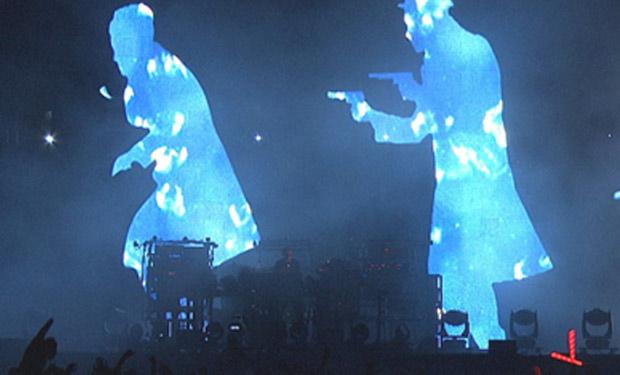 Posted by Will Weinand on
There are a set of challenges to making a great concert film. The movie should make you feel like a participant at the event, give you the full expanse of the stadium show as though you are in the back of the house, and finally, connect you with the band as though you have better than front row seats. And then, to be great, you have to transition between these perspectives without the viewer even realizing it. The Chemical Brothers' "Don't Think" is everything you want from a concert movie, with the added dimension of their signature spin on perceived reality.
Filmed at Japan's Fujirock Festival last summer, the concert at its core is perfect record of the Manchester electronic duo at their zenith, taking their 20 years of collaboration and weaving their audience through a electronic symphony while stunning visuals cascade from the stage to the streets beyond. Tom Rowlands and Ed Simons conduct a stadium wide rave, the film's close-ups shots offering an intimate look at the precision involved in their performance and their enthusiasm for the experience they deliver. Directed by Adam Smith, who has created designed the band's visual elements for the past 18 years, the mind bending visuals compliment every step of the music, from mellow grooves to industrial cacophony in perfect harmony.
The crowd pulses as they are visited upon by spectral psychedelic lovers, bugs made of electric white light and an omnipresent clown who bounces from trees to attendees bellies, all building up to the appearance of techno-god made of what might be motion capture dots. The viewing experience is entrancing, don't be surprised if you catch yourself dancing in your seat.
Like any good trip, watching "Don't Think" is a fantastic high with just enough things to unsettle you to make things interesting, a full frontal engagement for your eyes and ears, and an overall experience that culminates like a deep tissue massage for the pleasure center of your brain.
"The Chemical Brothers: Don't Think" will be released in theaters on Wednesday, February 1. If you're a fan of the Chemical Brothers, this will be be an incomparable treat. If you're not, seeing this will make you believe.
What is your favorite Chemical Brother's performance? Tell us in the comments below or on Facebook or Twitter.