"Catching Fire" will shoot in Hawaii and be awesome, says Jennifer Lawrence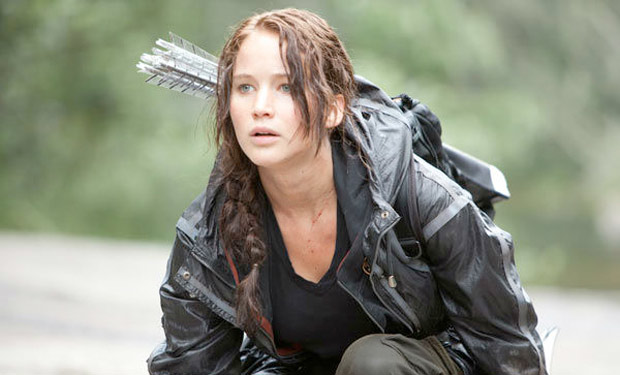 Posted by Terri Schwartz on
There are only seven and a half weeks until "The Hunger Games" hits theaters, and we couldn't be more excited. Such is the case with the entire cast and crew as well, if we can judge their enthusiasm by the way they talk about the movie in interviews. Director Gary Ross and stars Jennifer Lawrence and Elizabeth Banks all chatted about the movie recently in anticipation of its release, and we'd be lying if we didn't say that reading the interviews have only gotten us stoked for "The Hunger Games'" March 23 release date.
With Ross officially signed on for "The Hunger Games'" sequel, "Catching Fire," he was finally able to open up about his enthusiasm for adapting that book. Training will apparently start in July, which means that shooting is still more than half a year off, but that hasn't stopped Ross from getting prepped for the project.
"I love the title 'Catching Fire' because from the moment Katniss was willing to eat the berries, the moment she was willing to give her life for something larger than herself, she set off a chain reaction that was at once bigger than her and also because of her," he told Entertainment Weekly. "That's a very exciting movie to make because you're seeing the emergence of a leader. It's the birth of a revolution so it has context that's larger than just the Games themselves."
It took Ross a while to confirm himself for "Catching Fire," and apparently he spent a lot of time teasing Lawrence and the rest of the cast on set by floating the possibility of passing them off onto a new director for the next film. Lawrence described the set as being "all a family," so it was hard for her to cope with the idea of losing Ross for film number two. Fortunately, she doesn't have to worry about it now.
She told EW that she's even more excited to prepare for "Catching Fire" than she was to prep for "The Hunger Games." Maybe that has something to do with the fact that it will be filming in Hawaii — likely because of the setting of the latter portion of the book — but it's likely just because she loves the story of Katniss Everdeen so much.
"Signing onto the movies I was like, 'Well, I'll probably love the first one and then I'll just want to get the rest of them out of the way," Lawrence said. "But I can't wait to start training. As soon as they were like 'We need to start training in July,' I was like 'Woohoo!' I can't wait to get back."
Ross thinks that Lawrence has a definite shot of getting her second Oscar nomination next year for her portrayal of Katniss in this movie. If her performance in the movie is as effective as it was in the full-length trailer, then we could definitely see that being the case.
"The range in this performance, the emotional terrain that she investigates, the demands of what this role are," Ross said. "It's such an intensely physical role and an emotional one. She carries the entire movie. To be able to do that at that age (Lawrence is 21) is so kind of incredible that I was in a little bit of awe. Do I think she should be nominated? Absolutely."
Banks spoke out about "The Hunger Games" recently and said that she thinks its something both fans of the books and author Suzanne Collins will be proud of.
"I really think we did right by the fans," Banks told Good Morning America. "Suzanne Collins, who wrote the book, she was with us and blessed everything that we did. I know we've done something that she's proud of."
She added to The Huffington Post that she didn't know whether fans would be as receptive to her portrayal of Effie Trinket. "Effie has a really theatrical, over-the-top, completely not me look to her. I have no idea if people are going to be into it. I hope they are," she said.
Are you looking forward to "The Hunger Games" and "Catching Fire"? Tell us in the comments section below or on Facebook and Twitter.