The line for a "Can't Hardly Wait" reunion film starts behind Peter Facinelli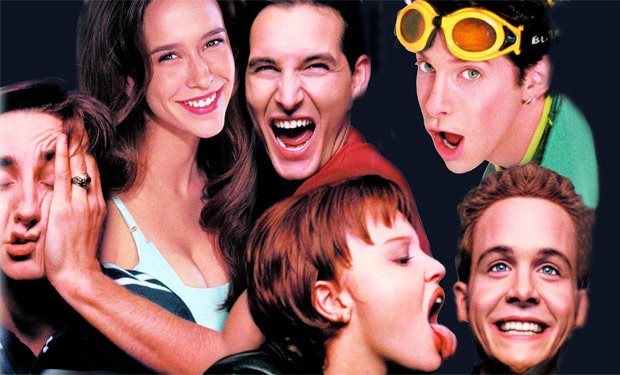 Posted by Brian Jacks on
Peter Facinelli may be best known these days for leading the Cullen clan in the "Twilight" films, but in 1998 he was Mike Dexter, an arrogant superjock and dumper of Jennifer Love Hewitt. The film was "Can't Hardly Wait," and it's since become a seminal cult classic for those of us who came of age in the mid-to-late '90s.
The pic takes place during a raucous high school graduation party and follows a series of archetypes: there are the brilliant nerds, the wildly immature jocks (led by Dexter), the white kids appropriating black culture who think they're cool (Seth Green in a hilarious performance) and the smart arty kids (Ethan Embry and Lauren Ambrose). It's an immaculately precise depiction of real life, and it also happens to be extremely funny, intensely heartfelt and very intelligent.
Given co-directors Harry Elfont and Deborah Kaplan have only made one movie since then (2001's "Josie and the Pussycats"), I've been feverishly hoping that the pair would decide to return for a sequel. Now, after having spoken to Peter, I realize I'm not the only one.
"I would totally do it," Facinelli tells IFC during an interview for his new film, "Loosies." "I think Sony put the nix on it."
With "American Reunion" on the horizon with its entire original cast, the timing seems perfect for a return of the "Can't Hardly Wait" family. According to Facinelli, he thinks the same thing. "That's why I thought it would be such a good idea," he says. "You know how the whole movie takes place at the high school party? We could have the whole movie take place at the reunion. I thought it'd be a fun movie."
Onscreen blurbs during the end credits describe his character's fall from grace, eventually gaining substantial weight and taking menial jobs, aka the fate that all bullied kids hope their tormentors face. According to Facinelli, though, if the reunion were to happen, it would feature a reversal of roles.
"I said I would only do it if he could get Amanda back at the end of the movie," he says, referring to Love Hewitt, who rejected him at the end of the film (after he rejected her). "I think basically everyone's stereotypes are now switched. Now he's basically the loser. The nerd was the loser in the first movie, now he's like the loser and then he kind of climbs back and gets back on his horse. And the nerdy kid is now the Bill Gates whose kind of like the Mike Dexter, bossing everyone around."
When I bring up Jerry O'Connell's character, a former high school football star who appears at the graduation party to belch out six-packs and leave Mike Dexter with substantial doubt over his decision to break up over Amanda, Facinelli retorts that present-day Dexter has fallen even farther than that.
"I think at this point he would have dipped even lower than former glories. I think he's just literally a loser. He's filled with self-doubt and he would basically rise to self-confidence again and come back on top."
Sony, on behalf of all "Can't Hardly Wait" fans, please make this movie.
http://www.youtube.com/watch?v=yAha_0OOL3U
Would you like to see a "Can't Hardly Wait" sequel? Let us know in the comments below, or on Facebook or Twitter.