New "The Avengers" stills show Nick Fury's battle scar, Bruce Banner's new outfit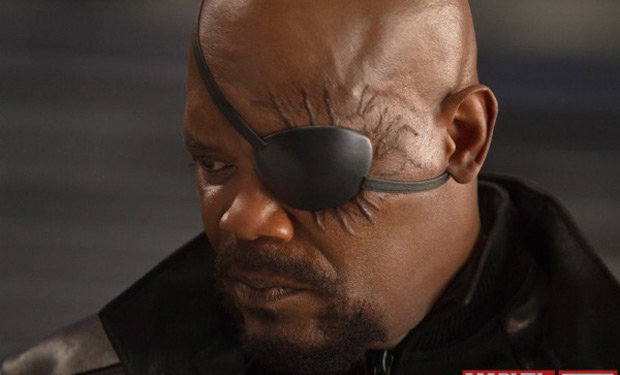 Posted by Terri Schwartz on
Missed picking up a copy of last week's "The Avengers"-themed Empire Magazine? Well you're in luck, because Marvel has released five new high-res images from the upcoming film for your viewing pleasure. And you'll be particularly pleased if you're looking for your daily dose of Samuel L. Jackson as Nick Fury.
Three of the shots are the same as the ones we posted earlier this week, largely focusing on Fury, Captain America, and Hawkeye and Black Widow. The new batch of photos includes a close-up of Fury's face — that's quite the veiny face you have there, sir — as well as a look at Bruce Banner and Tony Stark.
The picture of Banner is particularly interesting. Empire recently scoped out a shot of Hasbro's upcoming The Hulk tie-in toy, but the green monster was wearing beige pants instead of his typical purple ones. In this image, Banner is wearing the same beige pants but a deep purple shirt. Could it be that "The Avengers" has opted out of the purple pants — not the best fashion decision, to be fair — and chosen to compromise by having Banner wear a purple shirt instead? It looks as though that could be the case.
Joss Whedon directed "The Avengers," which is due out in theaters on May 4. It stars Chris Hemsworth, Chris Evans, Robert Downey Jr., Mark Ruffalo, Scarlett Johansson, Jeremy Renner, Tom Hiddleston and Jackson.
What do you think of these new stills? Tell us in the comments section below or on Facebook and Twitter.