New line of "Avengers" cologne lets you smell like Hulk. (Yes, this exists.)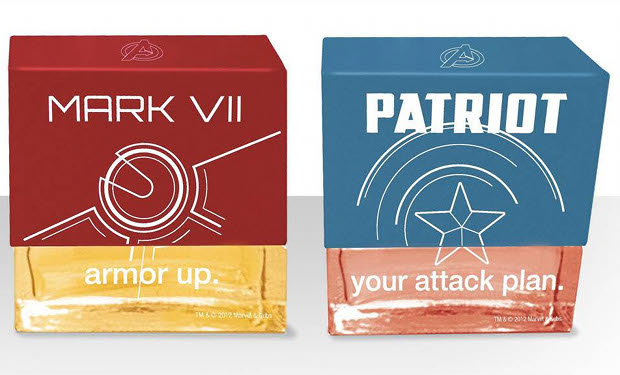 Posted by Rick Marshall on
Of all the movie tie-ins we expected to see for "The Avengers," this is certainly one of the more surprising… and a little weird, to be honest.
Fragrance-makers JADS International have unveiled their new line of cologne based on "The Avengers," which includes six different scents based on the heroes and villains from Marvel's upcoming team-up film. Among the fragrances are scents based on Captain America, Iron Man, Hulk, Thor, Nick Fury, and — because bad guys like to smell nice, too — the god of mischief himself, Loki.
You can read up on the descriptions of each fragrance over at the JADS website, but here are some of the highlights (depending on how you look at it, I guess):
The Mark VII cologne based on Iron Man is is described as a "resolutely sophisticated" scent that combines "mandarin, neroli, nasturtium and jasmine layered with light patchouli." Yes, you read that correctly — the Iron Man cologne contains the scent of mandarin. This is clearly a warning from… someone.
(For those who might not be as comics-savvy, the villain called Mandarin is actually Iron Man's arch-enemy in the comics world. It's cool, we won't tell anyone that you didn't know that.)
Meanwhile, the Hulk-flavored fragrance leaves us a bit puzzled, as it's said to be a mixture of "yuzu, bergamot and tarragon [to] create clean, clear top notes along with unexpected accords of water lily and nutmeg." Nowhere in the description is the scent of demolished urban infrastructure and torn purple pants even mentioned. We would've expected a little chili powder — or better yet, something resembling the smell of napalm in the morning.
Curiously, there's no description of the scents contained within the "Mischief" and "Infinity Formula" colognes tied to Loki and Nick Fury, respectively. If Nick Fury's cologne doesn't smell like an old cigar, though, someone is clearly going at this the wrong way.
Oh, and while there aren't any pictures or descriptions listed, the JADS website also lists tie-in fragrances for Spider-Man and Deadpool. Yes, Deadpool — a character who once created an entire suit of armor made out of raw meat, because it seemed like a good idea at the time. Wrap your heads around that for a second, okay?
Here's hoping the lack of Ghost Rider cologne is just an oversight, because we're pretty sure there are a lot of people who'd pay to smell like a burning, leather-clad Nicolas Cage. (Okay, not really.)
Which scents do you think they're missing? Chime in below or on Facebook or Twitter.