Custom 3D glasses for "Avengers" can be yours… for a price!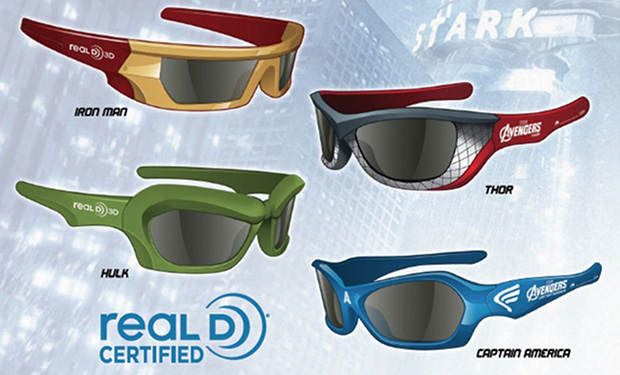 Posted by Rick Marshall on
The 3D movie craze has its share of detractors (quite a few of them, in fact), but that hasn't stopped Hollywood from pumping out more and more movies made in — or more often, converted to — the 3D format. Such is the case with "The Avengers," Marvel's upcoming superhero team-up extravaganza, which is being converted to 3D in post-production and will also offer a new, collectible twist on the 3D moviegoing experience.
As revealed over at Italian site BadTaste.it, Marvel will offer a line of custom 3D glasses for "The Avengers" that can be bought at screenings for an extra charge (probably around $5). The glasses will feature a color scheme and style based on each of the four primary superheroes featured in the film: Thor, Hulk, Captain America, and Iron Man.
A similar promotion will be in place for 3D screenings of "Star Wars: Episode 1 – The Phantom Menace," so the option of buying collectible, movie-specific versions of the free, plastic glasses we all use (and occasionally take home because they are so darn stylish already) isn't new for "The Avengers" — but it still represents an interesting strategy to generate even more money from the 3D movie experience.
It's also worth noting that the promotional image of the glasses features a fuzzy depiction of something we haven't seen much of in trailers or other official material yet: Stark Tower. There's a cool little shot of the tower-topping "STARK" logo in the ad, which is a nice little bonus for everyone who celebrates every new piece of info we get ahead of "The Avengers."
What do you think of the "Avengers" glasses promotion? Chime in below or on Facebook or Twitter.