Separating fact and fiction with "A Separation" director Asghar Farhadi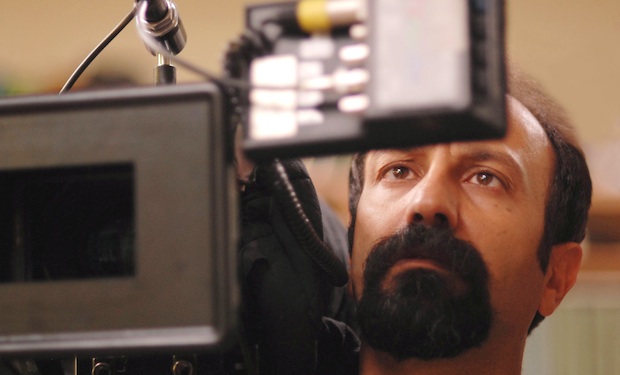 Posted by Matt Singer on
As I was packing up my briefcase after our interview, director Asghar Farhadi made one request through his interpreter, Sheida Dayani: quote his words precisely. He'd been misquoted before, he told me, and he didn't want it to happen again.
This struck me as an interesting request, since Farhadi's superb film, the Spirit Award and Golden Globe nominated "A Separation," is all about misinterpretation. It begins with an Iranian couple, Nader (Peyman Maadi) and Simin (Leila Hatami), as they try to get a divorce, then follows their family as they deal with that decision's fallout. Without his wife at home, Nader is forced to hire a caretaker to look after his bedridden father; later, the caretaker leaves the father unattended, and there is an accident. The case ultimately goes to court, where it becomes a matter of he-said, she-said. Both sides present wildly different interpretations of the events. It's up to a judge to determine who is right and wrong; from the perspective of the audience, it's already clear the answer isn't so black and white.
That's exactly how Farhadi wants it. "You can make a film in a way that when the audience leaves the theater they leave with certain answers in their head," he told me. "But when you leave them with answers you interrupt the process of thinking. If instead you raise questions about the themes and the story, this means that the audience is on its way to start thinking. I like that better."
Hopefully this interview, about Farhadi's process, his love of writing, and even his initial dissatisfaction with his film's English language title, will give you plenty to think about as well. Hopefully I've transcribed his words correctly, too.
When you're writing, what comes to you first: the characters or the story?
The two are really inseparable. They move together, both story and character. For me, character comes from a specific condition or situation. I cannot really define a character outside that situation.

How has the reception of the film in Iran compared to its reception abroad?
The responses have been very similar inside and outside Iran. I don't mean that everyone has the same reaction; but the diversity of questions that are raised outside Iran and the diversity of questions that are raised inside Iran are very similar.
Your daughter plays Nader and Simin's daughter in the film. Was that your idea or her idea?
[laughs] She wanted to act, and I also wanted to make a film that she could act in. So it was both.
Did you like directing her?
I liked it a lot but there were also times that were difficult. Because she was my daughter, I allowed myself to be tougher on her. Sometimes there were people who said that I was really being tough on her. But with all the complications, we're both satisfied with the collaboration.
Does she want to be an actress when she grows up? And would you encourage her to pursue acting as a career? I guess you've already been pretty encouraging.
I think she would like to continue acting but she'd also like to try writing as well. She played her first film when she was three years old. This is her fourth film.
Many of the early scenes in the film — casual conversations or small bits of information — seem unimportant, but they come up again in later scenes, and we're left trying to remember them. How did you approach these key moments? They need to be simultaneously memorable and unmemorable.
We have the wrong impression of life. We think the very big incidents of our lives are consequences of huge dilemmas or major decisions. If we paid attention, we'd realize that the determining incidents in our lives are ordinary things. When I write or I shoot these details, I do so in a way that makes them seem very simple, like ordinary details of everyday life. I don't want the audience to think they're watching an "important" scene and to try to remember it as a result. This whole game of making the audience go back and remember these simple little details makes them more engaged in the film.
How difficult was it to place all of these "ordinary details" into the screenplay — and to balance things so that all of the characters are equally conflicted and compromised?
It's a very difficult thing. What I needed to be aware of was the timing; this kind of film cannot work at a fast pace. These details are like part of a crossword puzzle — every corner is related to the other corner.
At this point in your career, what's the most challenging part about shooting a film in Iran?
This is very difficult for me to answer because I was born there, I grew up there, and I became part of the system, so when I'm working, I'm not consciously thinking about what is more or less difficult. Perhaps if a filmmaker came from the United States and started making films in Iran, they would be more aware of the obstacles. But for me, someone who's part of the system, it's not very clear.
I'm sure when you travel with the film, people want to talk to you about the ending. When they ask about it, how do you answer?
I have never given a clear answer to the question; I always try to be evasive about it. I try to let it pass with some humor, or to give some non-specific answers. That's true not just about the ending, but about all questions raised in interviews. I try not to be very specific about anything in the film. It's wrong for a director to reveal all the things he was trying to hide in the film. That's why I've always said that giving interviews about the film is usually more difficult than making the film.
[laughs] I'm sorry about that.
No, no. That's our job.
You've received several awards and nominations already. What do you make of the whole Oscar race?
It makes me very happy that regular people are getting to see the film. But I'm also aware that success can bring danger. The success of one film may convince the filmmaker to try repeat his successes and get into a competition with himself. One cannot dwell on periodic successes. You have to look at it as a temporary, passing thing.
Do you have your next film already planned? Based on what you're saying, it sounds like you're going to make something very different from "A Separation."

Yeah. One way to get away from all this hype is to start concentrating on my next film right away. My mind is more involved with my next project than what's happening with this film.
Do you have a favorite part of the filmmaking process? Obviously not the interviews — we've established that.
Writing. For me nothing is more enjoyable thank thinking about a creating a story. Writing is like being in a world where everything belongs to you. You have full power over the characters to create whatever you want.
Does the actual shooting of the film ever get frustrating when it doesn't quite live up to your imagination for some reason?
Sometimes it happens. When you're writing, you have full control over everything. But when you try to bring that to action, you run into certain constraints. Not everything comes out the way you imagined.
The original title of the film was "Jodaeiye Nader az Simin." Nader and Simin are the characters — what does the word "jodaeiye" mean? Is that "separation?"
It's not just "separation." It kind of gets lost in translation. You can look at it as "divorce" or as "detachment" or "chasm."
So how do you like the English language title, then?
At first, I didn't really like it. It seemed to me that the original title had been distorted somehow, and I wasn't happy about that. But experience has proven that it's a good title.
"A Separation" is now playing in New York and Los Angeles. For a full list of playdates, go to SonyClassics.com.