Geoff Johns explains how Aquaman is getting his groove back at DC Comics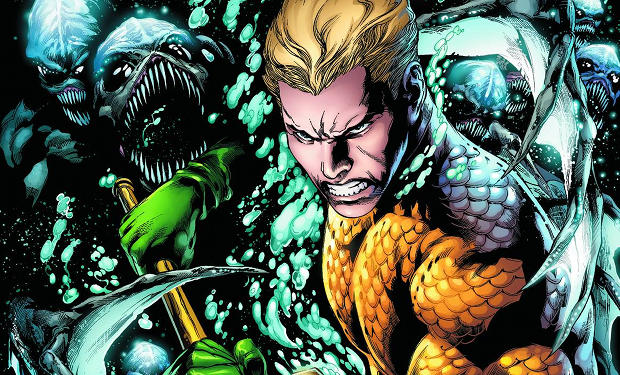 Posted by Rick Marshall on
Long before Geoff Johns was named DC Comics' Chief Creative Officer, the veteran writer made a name for himself bringing classic characters like Green Lantern (out this week), Flash, and the members of the World War II-era Justice Society of America back to the forefront of the publisher's universe. One of the industry's most celebrated superhero scribes on both the page and screen (he scripted several well-received episodes of the live-action, "Smallville" television series based on Superman's early years), Johns recently undertook the daunting task of turning Aquaman, one of DC's most punchline-friendly heroes, into a relevant member of the publisher's A-list lineup.
And while some might scoff at the idea of DC's trident-wielding, gold-shirted King of Atlantis standing shoulder-to-shoulder with Batman or Superman, Johns has managed to win over skeptics and newcomers alike with the first few issues Aquaman.
As one of the 52 new series DC premiered last year in its much-heralded, universe-wide reboot, Aquaman is one of the most pleasant surprises to come out of the event, with its mix of classic superhero storytelling and self-aware references to the perception of the character in the real world. IFC recently had a chance to chat with Johns about his approach to the character and why Aquaman has had so much trouble getting the respect he deserves.
And because he's the CCO of DC Comics and one of the premiere architects of the DC Universe these days, we also made sure to ask Johns about a few other projects on his radar these days — including the DC Universe Online game and a few small-screen projects currently in the works.
IFC: So before we even get started here, I'd like to know what it is about Aquaman that appeals to you — because we've talked about this character a few times over the years and I know you have some unique feelings about him.
GEOFF JOHNS: Well, it's two things, really: his awareness coupled with his reputation. It's the fact that everybody knows who he is, but not a lot of people put him high on their list of favorite heroes. This is outside of the world of comics, too — so I think that's an interesting dynamic to play with and explore.
IFC: So when it came time to pitch your take on Aquaman for the "New 52" relaunch, how was it originally received? I assume you have to be careful when you suggest anything that might be interpreted as hurting his reputation any further…
JOHNS: [DC editor Pat McCallum] and I talked a lot about what the take would be. We did a straight superhero take on him in "Brightest Day" [one of DC's earlier, universe-wide events], and that was far and away the most popular story in that book. When I was talking about launching the book and diverging from that take and getting a little more off-kilter, Pat was really into it, but there was some push-back from other people. Once the script and art came in, though, people really got what we were trying to do.
And now that we've got our tone and got our book going, hopefully we'll roll for a long time on it.
IFC: There's one particular scene in the first issue that has Aquaman answering questions from a blogger character that clearly represents some of Aquaman's critics and the people who made him into the punchline he's perceived as today…
JOHNS: [Laughs] Yeah, that was an easy way to take on some of that…
IFC: In the scene, Aquaman gets visibly angry with the character who's peppering him with ridiculous questions, and it left me wondering if that was a representation of your own feeling about all the Aquaman jokes. I know you're a fan of the character, but how do you feel about Aquaman being the butt of jokes all the time?
JOHNS: No, the jokes don't bother me. I actually like the jokes. There was a quote I read on Vice recently that said "finding Newt Gingrich at the head of the presidnential pack is like turning on 'Super Friends' and finding Aquaman in charge." The fact that this was in an article about politics just says everything you need to know about Aquaman. I think that once you're in on the joke and understand what he deals with — after all, he's the easiest target in the world, but he's a bad-ass and he can take it — you're almost more justified in liking the character.
IFC: Well, I noticed that a lot of the first issue was devoted to Aquaman confronting this type of stuff, but then there was a little less of that in subsequent issues. Was this just an early, tone-setting thing, or can we expect to see him dealing with more of that "we'll call you when we need to talk to fish" stuff down the road?
JOHNS: He's always going to deal with this. I'll say that about it. He won't deal with it as directly as he did in issue #1 in most cases, but it's not going to be something we're going to change until the world's perception of him changes.
IFC: Along those lines, Aquaman has always seemed to have a rough time making the jump from page to screen. There was that failed "Aquaman" television pilot years ago, and one or two other projects that never really got off the ground. Why do you think that is?
JOHNS: Well, he has been a huge character on "The Brave and the Bold" [animated series], and he's very popular on that show — so I wouldn't count him out completely. He also has some pretty prominent roles in a few video games coming up and things like that, too. But most heroes have never had their own pilot, so the fact that Aquaman even got one says a lot about his appeal.
I also think it's incredibly expensive to do a show like "Aquaman" unless it's firing on all cylinders — but again, the fact that he did get a a pilot and the investment was made is a pretty big deal. He was also a character on "Smallville," and so was Mera, so he's actually had a lot of exposure compared with some of the other heroes out there. He hasn't headlined his own thing yet, but I think one day he will. The fact that he's so well-known is certainly on his side.
Even so, the preconceptions of what Aquaman is and who he is are a challenge. A lot of people like Aquaman for nostalgic reasons, and kids like him because it's cool to be Aquaman in the pool, but when you get older, Aquaman can be a bit of a joke. It's tough to get people to give him a chance.
IFC: DC also rebooted the Justice League, so I'm curious about how this version of Aquaman will fit into that team. Superman is sort of the big gun and the moral compass, while Batman is the detective and street-level guy, and Green Lantern deals with the cosmic threats. What is Aquaman's role?
JOHNS: He's very much a leader, and some might say he is the leader — though public perception would never expect that. You'll see his role evolve with the team. He's still underestimated by some of the members of the team, though, and you'll see that play out in the book.
IFC: What can you say about what's next for the Aquaman comic?
JOHNS: Well, we'll eventually get to Atlantis, and when we do, it's going to be big.
IFC: We've mentioned "Smallville" a few times now, and over that show's long, ten-year run, it introduced a lot of DC superheroes and proved they could make the jump from comics to the live-action world. Is there a desire to find the next "Smallville" over at DC and Warner Bros?
JOHNS: Of course you want DC characters on live-action TV. I think they're great for it. The characters in the DC universe — the majority of them, at least — could be adapted pretty easily with the right takes. Right now, we have a lot in development that I can't discuss, but it's pretty well-known that we've got "Booster Gold" at SyFy, "Deadman" is at CW, and "The Spectre" is at Fox. And we have more shows in development beyond those, too.
IFC: I also noticed that one of your recent creations in the Green Lantern universe, the Orange Lantern, recently appeared in a Christmas-related campaign on DC Universe Online. Did you have any input on that decision or the narrative that puts characters like Larfleeze (the Orange Lantern) into the game?
JOHNS: DC works with Sony and Warner Bros Interactive on that stuff, but I did write the bible for the game. I'm not really involved in anything else, though. That being the case, they do updates on DCUO pretty regularly, and it was fun to see them want to get Larfleeze in there for Christmas.
You can pick up "Aquaman" #1-4 on shelves now, and "Aquaman" #5 will go on sale January 25, kicking off a new story arc in the series. The "Aquaman" comic book series is written by Geoff JOhns with art from Ivan Reis and Joe Prado.
Chime in with your thoughts on this interview below or on Facebook or Twitter.