Andy Samberg and Rashida Jones' "Celeste and Jesse Forever" – First impressions from Sundance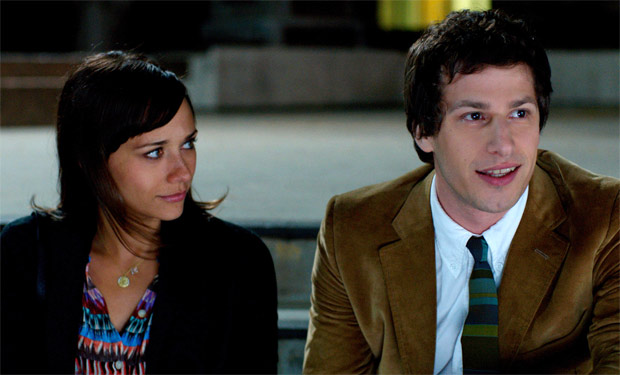 Posted by IFC on
By Jordan Hoffman
There's a moment early in "Celeste and Jesse Forever" when the very talented Rashida Jones and Andy Samberg are being sickeningly cute. We cut to their friends Ari Graynor and Eric Christian Olsen looking grossed out by their silly, "Hans and Franz read the dinner menu" shtick and the gag is "man, young people in love can be so annoying!" But the joke overthrew the mark for me, and I was left thinking, "man, movies about young people in love being annoying. . . can be so annoying."
Then there comes the twist, that these two lovebirds are actually ex-lovebirds, now separated, but still best friends who spend every waking moment with one another. I threw my hands in the air (I can be demonstrative at screenings, but never loud) at a premise I just couldn't buy. At the twenty minute mark, I was considering leaving, and may have done so if I wasn't obligated to stay. Then something quite unusual happened. I started falling in love with the movie.
Maybe it was because the premise was, by now, out of the way, or maybe it was just because these actors are just too damn good, but some transformation took place such that I began to actually care about these people, their friends and their futures. So much so that when there was a callback to the earlier funny voice moment I actually felt guilty for not liking it before.
Jesse is something of a desultory artist and Celeste is a "trend analyst" whose type A personality (and need to always be right) forced her to cut Jesse loose. But she still loves him, of course, and all it takes is a night trying to put an IKEA dresser together for backsliding to occur. Both parties try dating and, slowly, everyone grows up a little.
"Celeste and Jesse Forever" is a perfect example of "the same but different." You know what type of buttons are going to get pushed in this movie, you know there are going to be wacky friends, ups and downs, musical montages, awkward encounters. . .and yet, there's a specificity going on here that elevates the material. It's about as good a romcom as I've seen in quite some time, with a lot of insight. The perfect example being what you first think is a throwaway character, a Lady Gaga-esque popstar played by Emma Roberts, who, shocking, turns out to be an actual human being with depth and feeling.
The writing, by Rashida Jones herself and Will McCormack (who also plays the friendly neighborhood pot dealer Skillz) is quite sharp. There are fantastic zings, wonderful running gags about Jones' clothing and what I can only call a deus-ex-animalis in the form of a man in a bear suit offering hugs.
Those looking for edgier fare at the fest kinda shrugged this a bit with a "yeah, yeah, it's good," but those on the business side see this as a guaranteed pick-up by a major distribution outfit. "This year's 'Like Crazy'" is a headline flying around the blogosphere. For me, it is an exercise in keeping yourself open to a quality film, even if your body first tells you you just aren't in the mood. Like the story's main characters will tell you, you never quite know how you are going to end up feeling after a period of time.
Does this sound like a film you'd like to check out? Let us know in the comments below.