Alan Moore comes face-to-mask with Occupy protestors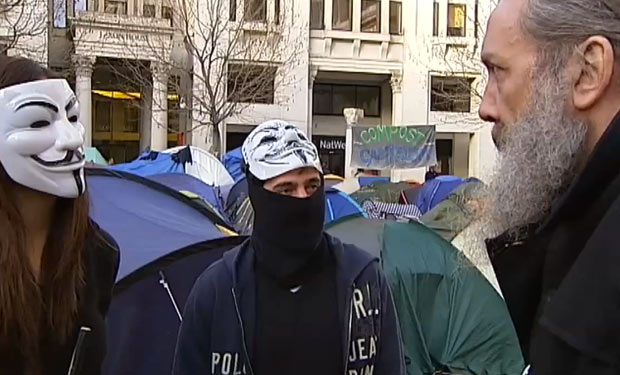 Posted by Terri Schwartz on
For someone who makes a point to maintain his sense of privacy, Alan Moore has spent an awful lot of time in recent months talking to the press about the Occupy movement. The protests have spread from Wall Street all over the world, and many have adopted the Guy Fawkes mask popularized in Moore's "V for Vendetta" to represent their sense of unity: i.e., "We are the 99 percent."
British news channel Channel 4 is the latest to talk to Moore about the protests, this time bringing him to the demonstrators in London. It was the first time Moore had visited one of the rallies.
"The reason why I hadn't been down before is because I hadn't wanted to make too much of a thing of the 'V' masks and stuff like that," he said. "I mean, I've admired [the protesters] from afar."
Finally Channel 4 brought Moore face-to-face with the protestors wearing the Guy Fawkes masks. He seemed genuinely taken aback by seeing one of his characters brought to life.
"It's a bit surprising when some of your characters who you thought to have made up suddenly escape into ordinary reality," he said to the Occupy protestors. "I mean, what is it about the mask? Is it just useful or what?"
One of them answered, "The whole character is very relevant to what we're doing at the moment because we're going against a system which we feel is corrupt, and so we're doing the same kind of thing as what happened in the movie."
Of course, Moore is too nice to mention that he wants no relation to the Hollywood adaptation of "V for Vendetta," but he has said in the past that he finds it humorous that Time Warner profits every time someone buys a mask to wear during one of the Occupy protests. He has also said that it has always been his secret dream to see one of the ideas in his graphic novels manifest itself in the real world.
"I suppose when I was writing 'V for Vendetta' I would in my secret heart of hearts have thought: wouldn't it be great if these ideas actually made an impact?" he told The Guardian in November. "So when you start to see that idle fantasy intrude on the regular world… It's peculiar. It feels like a character I created 30 years ago has somehow escaped the realm of fiction."
Are you surprised Moore actually agreed to meet the Occupy protestors? Tell us your thoughts on the comments section below or on Facebook and Twitter.