Adapt This: "Absolution" by Christos Gage and Roberto Viacava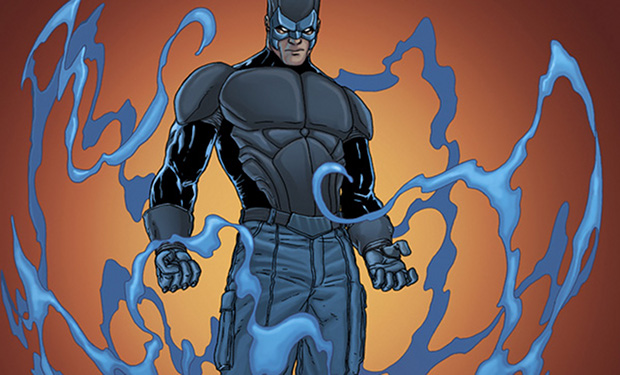 Posted by Rick Marshall on
With Hollywood turning more of its attention to the world of graphic novels for inspiration, I'll cast the spotlight on a new comic book each week that has the potential to pack a theater or keep you glued to your television screens. At the end of some "Adapt This" columns, you'll also find thoughts from the industry's top comic creators about the books they'd like to see make the jump from page to screen.
---
This Week's Book: Absolution by Christos Gage and Roberto Viacava
The Premise: In a world where superheroes are part of a sanctioned law-enforcement unit, John Dusk is a veteran good guy with amazing powers.
After years of putting down society's most heinous criminals, Dusk encounters one too many repeat offenders and kills a murderer during an encounter. Instead of feeling remorse about it, he feels good — so good that he begins taking down more of the city's most sadistic perps… permanently. As his new "hobby" finds its way into the headlines, he's forced to keep his extracurricular activities a secret from his fellow policemen, his super-powered partners, and his detective girlfriend.
But how far is too far when it comes to ridding the world of evil?
The Pitch: Absolution writer Christos Gage has already made a name for himself scripting episodes of the hit crime drama "Law & Order: Special Victims Unit," as well as celebrated runs on "G.I. Joe: Cobra," "Stormwatch: Post-Human Division," and "Avengers: The Initiative" — so it's no surprise that his work lends itself well to the screen. A procedural fan who knows his way around real-world law enforcement and investigation, Gage has crafted an excellent story in Absolution that manages to balance both superhero elements and crime drama masterfully.
In many ways, Absolution is exactly what one might expect to see if super-powered characters were introduced to the world of "Law & Order." John Dusk is what "S.V.U." mainstay Detective Elliot Stabler (Christopher Meloni) could indeed become if he was given similar abilities and finally reached that ever-present breaking point that he often nears, but never crosses.
With the exception of a few characters, Absolution also manages to keep many of the powers wielded by the world's superheroes and superhuman villains fairly manageable (from an effects perspective), though the most difficult one to bring to the screen could be Dusk's ability. In the series, he's able to manifest a field of blue energy that he can manipulate however he wants — forming a shield, a weapon, or a form of transportation if he so desires. Dusk's power is similar to that of DC superhero Green Lantern, though it operates on a much smaller scale in the world Gage has created for Absolution.
And while Absolution is stocked with graphic, violent action sequences, it remains a drama at heart, and a study of the criminal justice system and the people who work within its structures. When I spoke to Gage about the book several years ago, he indicated that the concept for the series came from a conversation he had with a real-world police officer who worked in a department not unlike "S.V.U." and dealt with the sort of terrible crimes perpetrated by the worst criminals society has to offer. Faced with one atrocity after another, some law-enforcement personnel lose their ability to separate themselves from their professional life — and Absolution explores one of the many potential outcomes of their traumatic day-to-day routines.
Absolution would probably work best as a movie or television miniseries, as the narrative has a well-defined set of acts that explore the story's theme and offer some — if not many — conclusions about the consequences of John Dusk's actions. To extend it beyond the narrative of the original comic would likely dilute the powerful message it conveys, though the right writer could certainly find new avenues to explore.
The Closing Argument: Much like Brian Michael Bendis' Powers comic book series — which follows a branch of law enforcement charged with investigating superpower-related crimes — Absolution manages to have that rare hit potential for both procedural drama audiences and fans of science-fiction or other, more fantastic fare. Gage's work in television clearly factored into the story's structure and pacing, so it's not difficult to look at the collected edition of Absolution as a storyboard for a potential film or television project.
In the end, it really comes down to one question: Do we want to see a superhero version of "Law & Order: SVU"? If the answer is yes, then look no further than Absolution.
---
Would "Absolution" make a good movie or television project? Chime in below or on Facebook or Twitter.