Thirteen(ish) actors who left a film franchise and then returned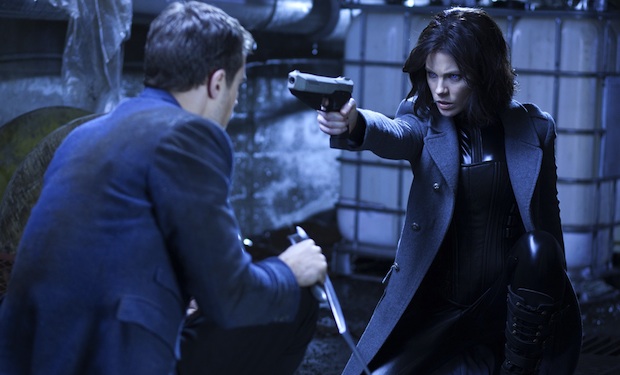 Posted by Matt Singer on
Jamie Lee Curtis in "Halloween H20: 20 Years Later" (1998)
Directed by Steve Miner
Years Between Appearances: 17
Laurie Strode's battle with her evil brother Michael Myers was supposed to end with "Halloween II" in 1981. "Halloween III" had an all-new storyline, but that didn't go over too well with audiences, so "Halloween 4" resurrected Myers and sent him searching for Strode's daughter Jamie. Myers and Jamie battled for a couple of movies, but the franchise got a big boost a few entries later when Jamie Lee Curtis agreed to reprise the role of Laurie in "H20: 20 Years Later." Curtis even stuck around long enough to provide a brief supporting turn in the "H20" follow-up, "Halloween: Resurrection," the last in the series' original incarnation before the whole thing was resurrected, with Scout Taylor-Compton in Curtis' role, by writer/director Rob Zombie.
---
Robin Williams in "Aladdin and the King of Thieves" (1996)
Directed by Tad Stones
Years Between Appearances: 4
Williams got into a major fight with Disney over their use of his likeness in the promotion of the first "Aladdin." He'd agreed to play the film's wise-cracking Genie on the condition that they wouldn't exploit his name for marketing purposes. Then Williams turned out to be the best part of "Aladdin" and they exploited his name for marketing purposes. You ain't never had a friend like the Genie — but you ain't never made an enemy like Robin Williams! That meant Williams wanted nothing to do with 1994's "The Return of Jafar" or a subsequent animated television series. But after Disney studio chief Jeffrey Katzenberg left the company, Williams got back into the voiceover booth for 1996's "King of Thieves." Katzenberg's replacement, Joe Roth, didn't even need to rub a magic lamp to make it happen. All it took was a public apology — and a hefty paycheck.
---
Sam Neill in "Jurassic Park III" (2001)
Directed by Joe Johnston
Years Between Appearances: 8
The first "Jurassic Park" sequel, "The Lost World," followed Jeff Goldblum's snarky mathematician Ian Malcolm. The second — and, to date, final — "Jurassic Park" sequel returned the focus to the series' original protagonist, paleontologist Dr. Alan Grant (Neill), as he led an expedition back to Isla Sorna in search of a rich couple's missing son. Neill wasn't the only original "Jurassic Park" actor to return to the fold either; Laura Dern, who previously played Grant's girlfriend Dr. Ellie Sattler, also appeared in a small but crucial role. Every few months, it seems, rumors bubble up about a possible "Jurassic Park IV" and which characters may or may not reappear. Personally, I'm keeping my fingers crossed that Wayne Knight's Dennis Nedry gets to take command of this one.
---
John Franklin in "Children of the Corn 666: Isaac's Return" (1999)
Directed by Kari Skogland
Years Between Appearances: 15

You might think after 15 years you'd be a little too old to play a "child" of the corn again. You'd be wrong! In fact, actor John Franklin was probably too old to play a child in the first "Children of the Corn;" he was already in his mid-twenties in 1984 (a hormonal disorder made him look younger than his age). By the time he returned to the series five films later, he was already pushing 40. But in some ways that makes his performance even more effective. In "666," he has the wrinkles of a middle-aged man and the physical stature of a boy. Creeeeeeeeeepy.
http://www.youtube.com/watch?v=pocPltnNeeo
---

Cary Elwes in "Saw 3D" (2010)
Directed by Kevin Greutert
Years Between Appearances: 6
Cary Elwes, the dashing star of sprightly comedic adventure films like "The Princess Bride" and "Robin Hood: Men in Tights," always seemed like an odd fit for the dour gore-isthenics of the "Saw" series, which is probably one reason why he was so effectively surprising in the first film. That movie left his character's fate uncertain and it took six "Saw"s in six years before we finally learned that Dr. Lawrence Gordon had indeed survived his ordeal with the Jigsaw Killer. In the series' final installment, Elwes returned as Gordon, older, wiser, and a whole lot meaner. The Dread Pirate Roberts had nothing on this guy.
http://www.youtube.com/watch?v=0DXVgYWUiwQ
---
The Cast of "American Reunion" (2012)
Directed by Jon Hurwitz and Hayden Schlossberg
Years Between Appearances: Various (but at least 9)
After three films in the late '90s and early '00s, the original "American Pie" cast had outgrown their roles. After all, the "Pie"s were about the awkward sexual encounters of horny teenagers, and after the characters graduated from college and got married in "American Wedding," there was a bit of a disconnect between the actors and the franchise's target audience. In the following years, "American Pie" became the brand of direct-to-video gross-out comedies. But in less than three months, the entire original "Pie" cast will appear in "American Reunion," set at their fiction Michigan high school's ten year reunion. Even John Cho — who was basically just the guy who called Stifler's Mom a "MILF" in one scene — is coming back. That is a very old pie. I hope they kept it in the freezer all these years.
---
Did we leave anybody out? What other actors have left franchises and then returned? Tell us in the comments below or write to us on Facebook and Twitter.