Thirteen(ish) actors who left a film franchise and then returned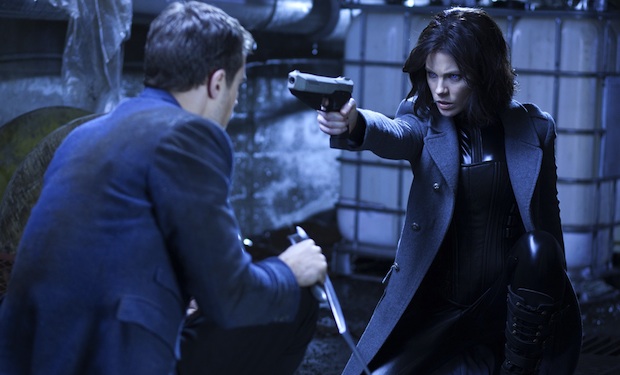 Posted by Matt Singer on
Who says you can't go home again? If home is a popular movie franchise, you definitely can, as proved by the members of the following list. This is a topic we explored a few years ago here on IFC.com, but that list is already hopelessly out-of-date. With today's release of "Underworld: Awakening" — featuring the return of Kate Beckinsale, who starred in the franchise's first two films, then skipped 2009's "Rise of the Lycans" — it seemed like a good time to revise, update, and expand that previous piece. Here now are a dozen(ish, one entry actually includes an entire cast) actors who moved on and then, eventually, moved back.
---
Sean Connery in "Diamonds Are Forever" (1971)
Directed by Guy Hamilton
Years Between Appearances: 4
Most people know Connery returned to play James Bond one last time in 1983's "Never Say Never Again," which came a dozen years after his previous performance as 007. But that's not an official entry in the Eon Productions Bond series, so it doesn't really count. Fewer people realize that Connery left the role once before, after 1967's "You Only Live Twice," and returned after his replacement, George Lazenby, quit following 1969's "On Her Majesty's Secret Service." Connery had claimed he was retired from Bond after "You Only Live Twice." Then the producers threw the then-astronomical sum of $1.25 million dollars and he was like "Retired? Oh no, I said rehired." The opening of "Diamonds Are Forever" — where Bond finds a factory producing clones of his arch-nemesis Ernst Blofeld — might have been a sly nod to the idea of the series trying to replicate his unique Bondian essence with an Australian lookalike.
---
Roddy McDowell in "Escape From the Planet of the Apes" (1971)
Directed by Don Taylor
Years Between Appearances: 3
McDowell was off directing his first (and last) movie, "The Devil's Widow," when Fox hurried "Beneath the Planet of the Apes" into production to capitalize on the rabid success of the first film. His character, the ape scientist Cornelius, remained an important part of the sequel, but McDowell was replaced in the role by David Watson — not a huge deal, since the "PotA" makeup made it hard to spot the difference anyway. One year later, McDowell not only returned to the role of Cornelius for "Escape From the Planet of the Apes," he became the series' headline star. Even after Cornelius was written out of the "Apes" storyline, McDowell stayed on, playing his own son in two more films.
---
Peter Sellers in "The Return of the Pink Panther" (1975)
Directed by Blake Edwards
Years Between Appearances: 11
Peter Sellers is so closely associated with the role of bumbling detective Inspector Clouseau, it's hard to believe anyone else would try to play him, but Alan Arkin, of all people, did in the forgotten 1968 film "Inspector Clouseau." At that time, Sellers was sick of Clouseau and even sicker of series director Blake Edwards. Seven years later, the studio was able to convince Edwards and Sellers to bury the hatchet and return for the sort-of appropriately titled "The Return of the Pink Panther" (the title, most people forget, refers to a diamond rather than Clouseau).
http://www.youtube.com/watch?v=n3vKSXX62O4
---
Paul Walker and Vin Diesel in "Fast & Furious" (2009)
Directed by Justin Lin
Years Between Appearances: 6 (for Walker), 8 (for Diesel)
Diesel bailed out of "2 Fast 2 Furious" to star in "xXx;" Walker moved on to other projects before "The Fast and the Furious: Tokyo Drift," which essentially rebooted the franchise with an all-new cast (though Diesel made a brief and borderline nonsensical cameo right before the closing credits). Both stars came back to the quickness and madness fold with "Fast & Furious," which was a big enough hit to give us "Fast Five" which was an even bigger box office smash. That means a "Fast Six" and possibly even a "Fast Seven" are already in the works. It'll be interesting to see if the franchise continues long enough for Diesel and Walker leave for bigger paydays somewhere else for a second time.
---
Jean-Claude Van Damme in "Universal Soldier: The Return" (1999)
Directed by Mic Rodgers
Years Between Appearances: 7
JCVD was in high demand as an action hero when he made the first "Universal Soldier" in 1992. He starred in seven movies over the next four years, including "Timecop," "Street Fighter," and "Maximum Risk." At that point he didn't have the time or the inclination to appear in the two straight-to-video "Universal Soldier" sequels, "Brothers in Arms" and "Unfinished Business." A few years later though, Van Damme was teetering on the edge of DTV oblivion himself, and he returned for "Universal Soldier" — wait for it — "The Return," a laughably terrible movie that ignored the previous two sequels and invented a whole new, wholly silly storyline for Van Damme's Luc Deveraux character. Another ten years later, Van Damme's "Universal Soldier" co-star Dolph Lundgren rejoined the franchise for his first film in 17 years, "Universal Soldier: Regeneration." JCVD starred in that one too, and "The Return" was relegated to noncanonical status as well. Look, they're called "Universal Soldier" not "Universally Understood Soldier," okay? Just let it go.
---
Heather Langenkamp in "A Nightmare on Elm Street 3: Dream Warriors" (1987) and "Wes Craven's New Nightmare" (1994)
Directed by Chuck Russell, Wes Craven
Years Between Appearances: 3, 7
Langenkamp, who played the original Final Girl in the very first "A Nightmare on Elm Street," left and returned to Wes Craven's signature serial on two different occasions. She was nowhere to be seen in "A Nightmare on Elm Street 2" but she starred in 1987's "Nightmare 3: Dream Warriors," in which her character, Nancy Thompson, worked at a psychiatric hospital helping Freddy Krueger's newest targets learn to fight him in their dreams. Nancy (SPOILER ALERT!) died at the end of "Dream Warriors," but Langenkamp came back to star in "Wes Craven's New Nightmare" in 1994. She played Heather Langenkamp, the actress who starred in the original "Nightmare" and is now reluctant to return to the series. It's like a dream, but super meta.