The most-rented movies of 2011 probably aren't what you'd expect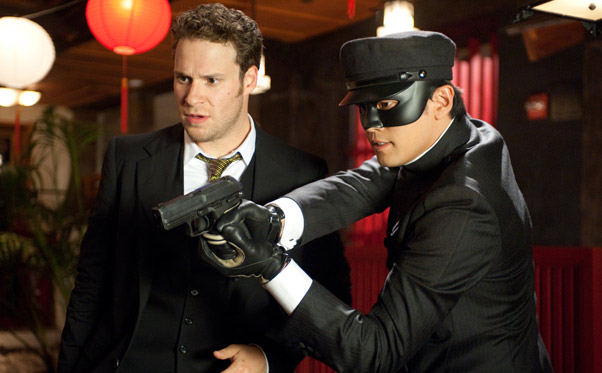 Posted by Brian Jacks on
With 2011 now firmly under wraps, kiosk superstars Redbox have announced their most-rented movies for 2011, broken down by genre. The quality of the films isn't exactly surprising, given that insanely popular movies like "Transformers" don't generally make the Academy lists. No, what's notable is the films didn't exactly do gangbusters at the box office; at least one of them would almost universally be considered a domestic flop.
The films are:
Most Rented Action Movie: "Green Hornet"
Most Rented Horror Movie: "Insidious"
Most Rented Comedy Movie: "Just Go With It"
Most Rented Drama Movie: "The Tourist"
Most Rented Family Movie: "Rango"
Most Rented total for all of 2011: "Just Go With It"
Let's break those down by the numbers.
---
"Green Hornet"
The Michel Gondry-directed, Seth Rogen-starred superhero adaptation rolled out with $120 million budget, plus whatever additional monies Sony spent on Print & Advertising (P&A). The big-budget film debuted to weak results at the box office, garnering a little over $98 million domestic. Where the film cleaned up was overseas, where it nabbed another $130 million. Did it take a while for American audiences to catch up with their foreign brethren? Maybe, but it only earned $15 million in domestic DVD sales, so who knows? Apparently most folks were more happy to drop $1 to see it, than a theater ticket or home video sale. But for "Green Hornet" to surpass titles like "Transformers: Dark of the Moon," "Harry Potter and the Deathly Hallows Part 2," "Pirates of the Caribbean: On Stranger Tides," and "Captain America"? Color me surprised, even if "Green Hornet" had more time on store shelves.
---
"Insidious"
Now this one makes more sense. Filmed on a shoestring budget of only $800,000 plus P&A, the James Wan-directed horror film managed a whopping $54 million at the domestic box office and another $43 million overseas, making it the most profitable film of 2011. With another $7.2 million in domestic DVD sales, it's not surprising that Americans went out in droves to rent this low-budget gem.
---
"Just Go With It"
With an $80 million budget plus P&A, there was really no question whether this Adam Sandler comedy, co-starring Jennifer Aniston, would find a home at the box office. Sandler comedies usually do. But it's somewhat surprising that it's the most rented comedy of the entire year given that it generated only $103 million domestic with $14 million on home video. "The Hangover Part II," for example, earned a whopping $254 million domestic , $322 million overseas and $26 million in US DVD sales. Could word-of-mouth have been a factor? Well, maybe. "Hangover 2" was rated 58% by audiences on Rotten Tomatoes, whereas "Just Go With It" reached 63% (the critics' ratings were the other way around, by far). Even so, though, in a year filmed with huge-budget blockbuster films, for "Just Go With It" to take not only "Most Rented Comedy" but the all-encompassing "Most Rented of all of 2011" cake is fairly amazing.
---
"The Tourist"
With $100 million budget plus P&A, Johnny Depp and Angelina Jolie's "The Tourist" bombed at the domestic box office, earning only $67 million. Where it succeeded however was overseas, where it racked up another $211 million. Another indicator that this would be a strong rental offering is in home video sales, where "The Tourist" managed to generate almost $17 million in sales. That's around 25% of its entire American gross…pretty impressive. And while its two marketable stars may have not been enough to pull in a theater crowd, they're big enough where they stand out at a DVD rental kiosk.
---
"Rango"
The second Johnny Depp release to make an appearance on the "Most Rented" list, "Rango" is another title that makes sense, but becomes more surprising when you compare it to other 2011 DVD releases. The film earned $123 domestic on a $135 budget plus P&A, and nearly almost as much internationally. It also racked up an impressive $22 million in domestic DVD sales. But as a 2011 release, it had incredibly strong competition from films like "Kung Fu Panda 2" ($165M domestic, $500M overseas) and "The Smurfs" ($142M domestic, $417M overseas). Perhaps word-of-mouth really did help on this one, as "Rango" is generally considered among the year's best films, with a 88% critics rating on Rotten Tomatoes (although only 69% audience rating, so go figure). But the easier answer is that "Rango" was released mid-year, giving it considerably more time on shelves than other noteworthy family films.
---
Most Rented lists are always a little wacky given that films released earlier in the year have a better shot at making the list than those released later, but when movies like "Deathly Hallows Part 2" earn $22 million in DVD sales yet fail to make the list, it's interesting to consider why (in that case, it's probably because Potter fans want to purchase their beloved wizard rather than keep him as a one-night stand). Nonetheless, we hope you've enjoyed looking at the numbers with us. Bring on 2012!
Which of these surprised you the most? Let us know in the comments below, or on Facebook or Twitter.