The 20 best job-quitting scenes of all time (with video)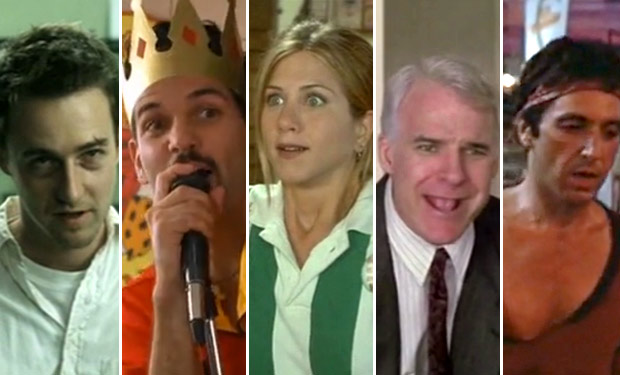 Posted by Bryan Enk on
16. "Parenthood" (1989)
Family comes before putting in overtime so clients can get laid in Ron Howard's ensemble dramedy, with Steve Martin realizing that nothing he does at work is ever going to be good enough for his bosses as long as he's got a wife and kids to steal his attention from the office. The former wild and crazy guy of "Saturday Night Live" can't help but go a little over-the-top in this scene (he does a particular weird hand gesture with "Aren't you dazzled?" that he doesn't seem to think works himself), but his everyman charm keeps you rooting for him as he chooses being a husband and father over putting together deals for ungrateful suits with questionable priorities.
---
17. "Scarface" (1983)
"I gotta protect my investment!" Oh, Tony — if you had just stayed at your greasy spoon job and at least tried to make an honest living like the rest of the Cuban refugees, maybe you wouldn't have ended up riddled with bullets and done a belly-flop into your indoor pool-fountain thing. Tony Montana (Al Pacino) and his pal Manny (Steven Bauer) decide to commit to a life of crime full-time in this scene, literally throwing their towels into the face of their employer and leaving him to do all of the dirty dishes himself. One of the most epic rises to power and descents into hell will soon ensue.
---
18. "Two Weeks Notice" (2002)
Yeah, after years of working 18-hour days, seven days a week for a lawyer who treats her more like a nanny than a colleague, let a girl have her stapler, would ya? Sandra Bullock tries to leave her job with quiet dignity, but all it takes is one person to challenge her about so-called "company property" for all of the anger and frustration involved with being overworked and unappreciated to explode all over the place. Wouldn't you know it, Hugh Grant plays the boss in this, too, though he's a little less of a jerk here than he was in "Bridget Jones' Diary." Anyway, let this be a lesson to anyone who ever sees someone taking office supplies on their last day — just look the other way.
---
19. "Bridget Jones's Diary" (2001)
There's been a countless number of scenes where the person quitting their job is oh so calm, collected and witty as the boss — who usually deserves being told off and then some — gets all flustered and exasperated but remains powerless and is ultimately mega-humiliated, usually in front of the rest of the office. "Bridget Jones' Diary" has one of those scenes, with Renee Zellweger never breaking a sweat (or her fake British accent) as she tells that sleazy lovable fop Hugh Grant that he can stick his six-weeks-notice policy where the sun don't shine.
---
20. "Wanted" (2008)
James McAvoy tells off his abrasive boss in front of the whole office in this scene from Timur Bekmambetov's geeked-out action flick, an act of defiance that puts him on the path of embracing his destiny as the son of a professional assassin. Bekmambetov's style is so over-the-top and undisciplined that the scene is more bizarre than cathartic, but McAvoy's effortless likability keeps it at least somewhat grounded in something resembling reality. The cherry on top is a keyboard to Chris Pratt's face; that'll teach you to sleep with Charles Xavier's girlfriend, pal.
---
Do you have your own favorite job-quitting scenes? Let us know in the comments below, or on Facebook or Twitter.