The 20 best job-quitting scenes of all time (with video)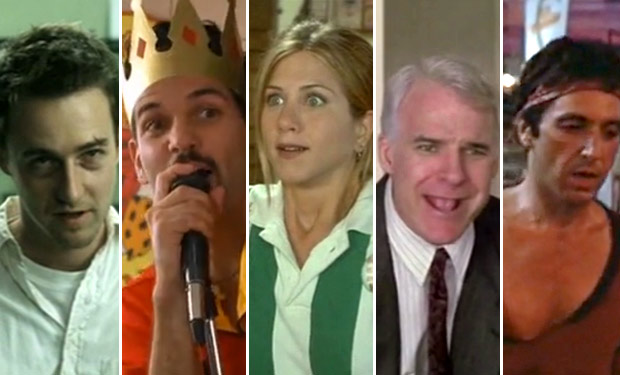 Posted by Bryan Enk on
6. "Burn After Reading" (2008)
"This doesn't have to be unpleasant." This clip ends before we actually see Osbourne Cox (John Malkovich) quit his CIA analyst job in response to being demoted, but you can see where it's heading. Malkovich gives his most spirited performance in years in the Coen Brothers' dark comedy, obviously delighting in all of the anger and profanity he gets to throw around in almost every scene he's in. The Coens try to bring their usual control-freak, ultra-mannered style to this scene, but Malkovich gives it an unpredictable, anarchic edge — you half-expect him to pull out a grenade and just blow everyone sky-high.
---
7. "Half-Baked" (1998)
You know every single person that works or has worked in the fast food industry has fantasized about this scenario at one point or another — probably at least once a day, actually. Scarface (Guillermo Diaz) quits his flippin'-burgers gig in the underrated stoner comedy, "Half Baked," letting it be known that the customers are just as responsible for his oppression as his boss and co-workers (not all of them, though — there's one patron in particular that he relieves of any blame). Oh, what sweet, deep-fried catharsis.
---
8. "Lost in America" (1985)
No one can do upper-middle-class misery quite like Albert Brooks. He's perfect at playing put-upon characters who just don't know when to leave well enough alone, making uncomfortable scenes like this one almost completely unbearable as we watch him dig a deeper and deeper hole for himself. Brooks quitting his gig at an advertising agency (an industry often portrayed as a miserable place to work in movies, oddly enough) upon not receiving a long sought-after promotion prompts the entire journey (and point) of "Lost in America," proving once again that sometimes you have to lose the job to find yourself.
---
9. "Mr. Mom" (1983)
Jack (Michael Keaton) was technically laid off from his engineering job, but in this scene he's given a chance to get it back if he backs up a lie conjured up by his superior (Jeffrey Tambor); as he refuses, it qualifies as quitting from a potential re-hire. Keaton displays the kind of twitchy, dangerous energy in this scene that would lead to him being the ideal choice to play Bruce Wayne in Tim Burton's "Batman" movies; it's a treat to watch him indignantly pace around the room, hands on his hips, pointing accusingly at the suits behind the desk and at his old boss. Why doesn't this man work much anymore? Wasn't there a part for him in Burton's "Dark Shadows"?
---
10. "Network" (1976)
"I'm mad as hell and I'm not going to take this anymore!" So goes the battle cry of Howard Beale (Peter Finch), the mad prophet of the airwaves, a news anchor fired from his network due to declining ratings; he's given a second career of sorts when the network starts to exploit his increasingly deranged rants and revelations about media and the state of the world in general. This classic scene isn't so much a "quitting scene" in a traditional sense, but it's a prime example of how one's job can completely skew their world view — and their sanity (though, indeed, is he really "insane?"). If you gotta go, go out swinging — and swinging hard.