The 20 best job-quitting scenes of all time (with video)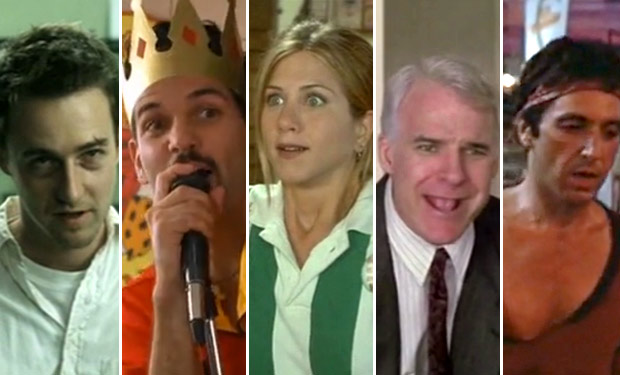 Posted by Bryan Enk on
Quitting one's job can make for some great drama (and comedy) in the movies. Here are some of the best moments of deciding to embrace a life of unemployment — or rather, in most cases, a life of freedom from The Man.
---
1. "Fight Club" (1999)
This is, for many, the best scene in David Fincher's ode to masculinity in a hopelessly emasculated society, as the Narrator (Edward Norton) goes to physical extremes — on himself — in blackmailing his boss (Zach Grenier). "Fight Club" is usually at its best whenever Brad Pitt's id-driven Tyler Durden is around, but Norton really shines in this tour-de-force moment of self-mutilation — it's both funny and scary watching him punch himself in the face and crash through glass as the boss is too awestruck to realize just how screwed he is now. Jack's Smirking Revenge, indeed.
---
2. "American Beauty" (1999)
When Kevin Spacey takes on that smarmy, self-righteous tone he's so good at, there's no actor more intimidating — or scathingly funny. Spacey's Lester Burnham is a put-upon suburban father and husband who suddenly has an epiphany of almost supernatural proportions that leads to a series of radical life changes, one of which is quitting his job at an advertising agency in the most satisfying way possible. Thank goodness we have the movies to fuel our fantasies of telling off our bosses so we don't go around pulling this kind of crap ourselves.
---
3. "Reality Bites" (1994)
John Mahoney makes for one of the worst movie bosses of all time as the host of an intolerably cheesy talk show, with Winona Ryder playing his emotionally abused assistant. When it comes time for Winona to instigate her own firing, director Ben Stiller can't help but go a little too far with the wacky shenanigans (this is the guy behind the sketch comedy show, "The Ben Stiller Show," after all) as Mahoney makes a fool (or, rather, a prick) of himself on television thanks to some tampered-with notecards (that cutaway shot to the aghast audience is especially wretched), but how can you not help but cheer when Winona Ryder gets her revenge against a big jerk? Hopelessly dated now, "Reality Bites" now serves as a historical piece documenting the trials and tribulations of employment-phobic Generation X.
---
4. "The Apartment" (1960)
"You dig?" Fred MacMurray dares condescend to Jack Lemmon in Billy Wilder's mischievous comedy. Lemmon plays an executive who tries to rise in the ranks of his company (all the way up to the 27th Floor, in fact) by letting the higher-ups use his apartment for trysts; things get complicated when he embarks on a romance of his own and starts to realize that the whole arrangement is rather, well, gross. If you want to be cynical about it, Lemmon's C.C. Baxter could be seen as a younger version of Shelly 'The Machine' Levene, the washed-up salesman he played 32 years later in "Glengarry Glen Ross," though we'd like to think Baxter went on to a lucrative career and never needed to rob his own office.
---
5. "Breaking Away" (1979)
Watch as a young Rorschach from "Watchman" literally punches the clock! People seem to have forgotten that Jackie Earle Haley was quite the renowned child actor, stealing bases (and scenes) as Kelly Leak in "The Bad News Bears" and coming of age as Moocher in "Breaking Away." Mooch needs a job, but he doesn't need a job where the boss calls him "Shorty" — quitting within 30 seconds of your first day has to be some sort of record, and Dennis Christopher, Dennis Quaid (looking considerably older than his co-stars) and Daniel Stern heartily approve.