Five more '80s films that deserve a commercial homage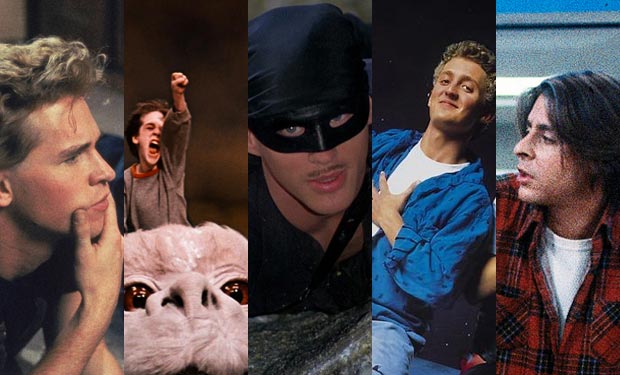 Posted by Rick Marshall on
Say what you will about Matthew Broderick's "Ferris Bueller's Day Off"-inspired ad for Honda, but it got everyone talking about his 1986 debut as the slacker hero.
Given the response (mostly positive) to the ad across just about every online social network, it's safe to say that "Matthew's Day Off" will go down as a marketing "win" — and when that happens, companies usually take notice and scramble to replicate that success.
As I mentioned in my earlier post about the ad, there are a few other '80s classics that might be worth revisiting in commercials, and not just because of the nostalgia factor. In some cases, the timing might be just right for a character to be paired up with a particular brand.
1. Val Kilmer shows the "Real Genius" of Apple (or Google).
There was no shortage of movies about nerds who make it big during the '80s, but Kilmer's take on Chris Knight made him the undisputed alpha nerd. Not only was he brilliant, but he was effortlessly cool, too — two characteristics that were rarely found in the bespectacled, awkward on-camera nerds of the time. With that in mind, how appropriate would it be to see Chris Knight trying to convince you that buying the iPad 3 is a "moral imperative"? Even better (from a marketing standpoint), have Kilmer (as Chris Knight) sell you on the long list of ways Google can better your life, then take a not-too-subtle swipe at Apple (a la Samsung). Commence flame war heated debate in 3… 2… 1…
2. Cary Elwes has an anti-piracy PSA for "The Princess Bride" fans.
Sure, he started off as the lovable Westley, but he was known the world over as the Dread Pirate Roberts. If movie studios and record labels want to counteract some of the hostility directed at their anti-piracy campaigns, why not trade some of those terrible PSAs and laughably threatening ads for a tongue-in-cheek message from a pirate everyone loves? Have Elwes don the black outfit and mask one more time to explain why people who download movies illegally should be sentenced to life in the Fire Swamp, and then just sit back and watch the message multiply like R.O.U.S. (Rodents Of Unusual Size, of course).
3. Judd Nelson brings back John Bender to promote beer… or jeans… or anything, really.
In "The Breakfast Club," Judd Nelson almost single-handedly ushered in the grunge era with his role as drug-dealing, denim-wearing, head-banging, authority-defying John Bender. Want to give your product an edge that says "I was bad-ass before being bad-ass was cool"? Get John Bender — or rather, get a long-haired Judd Nelson, dress him in a bunch of flannel and denim (complete with fingerless gloves and unlaced work boots), and have him explain that the only people who would buy your competitor's product are neo-maxi-zoom-dweebies.
4. Bill S. Preston, Esq. reminds you of the importance of choosing the right cellphone service provider.
Want to convince the world that you really do have the best coverage area? Get in touch with "Bill & Ted's Excellent Adventure" actor Alex Winter (since his co-star Keanu Reeves might be a tough sell right now) and have him reprise his role as Wyld Stallyns co-frontman Bill S. Preston. Sure, they traveled in a phone booth during their "Excellent Adventure" and "Bogus Journey" days, but now they don't even need to leave their couch to travel through time with Verizon… or AT&T… or whatever company jumps on this idea. STATION!
5. Falkor the Luck Dragon wants you to play the lottery.
If your product encourages people to try their hand at beating the odds, could there be any better spokesperson than Falkor, the furry, flying deus ex machina of "The NeverEnding Story"? Sure, the original film was aimed at children, but those kids who dreamed of being Atreyu are now adults who dream of, well… having lots of money and owning cool stuff. Some people will probably complain about the marketing campaign and say silly stuff like, "this commercial is raping my childhood" and so forth, but that's just plain ridiculous. Everyone knows that when Falkor told Atreyu "never give up and good luck will find you," he totally ripped that line from a Lotto ad.
What do you think of these suggestions? Chime in below or on Facebook or Twitter.