Want to own Orson Welles' Oscar? Now you can.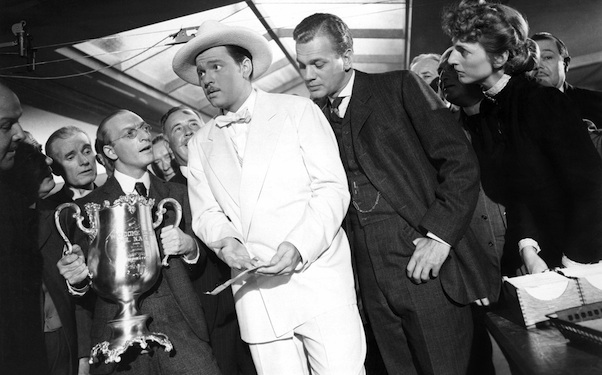 Posted by Matt Singer on
Have you ever wanted to own an Academy Award? Are you a talentless hack with no shot of earning one through legitimate, artistic means? Are you also inordinately wealthy? If you've answered yes to all these questions, first of all, hello! Let's be friends. Secondly, congratulations! I, your new bestie, have a cool movie news story for you.
TheWrap reports that Orson Welles' only Oscar, given to him in 1942 for the screenplay of "Citizen Kane," is up for auction. Through December 20th at 5:00pm Pacific Time, you can bid on Welles' "Kane" Oscar at NateDSanders.com. As of this writing, the current bid is a modest $60,240.
According to TheWrap's story, Welles' Oscar has had almost as complicated a life as Charles Foster Kane himself. Welles gave the statue — either as payment for work or as a friendly loan — to cinematographer Gary Graver. Later, Welles' daughter Beatrice successfully sued Graver to have the statue returned to her. In 2003, she gave it to a Los Angeles charity named the Dax Foundation, but not before she fended off another lawsuit, this from the Academy of Motion Picture Arts and Sciences, who didn't want her selling it either (Oscar winners must typically sign a document promising not to sell their trophy). Eventually, Beatrice Welles won that suit too, but the Dax's first attempt at an auction back in 2003 failed to yield a bid over the reserve price. Now they're trying it again. So bid with confidence, richies! The proceeds go to charity. I mean it's no beloved childhood sled that also serves as a symbol of our society's collective loss of innocence, but it's still a friggin' Oscar.
How much would you pay for a real Oscar statue? Tell us in the comments below or write to us on Facebook and Twitter.