Countdown to Top Ten 2K11: "We Need to Talk About Kevin"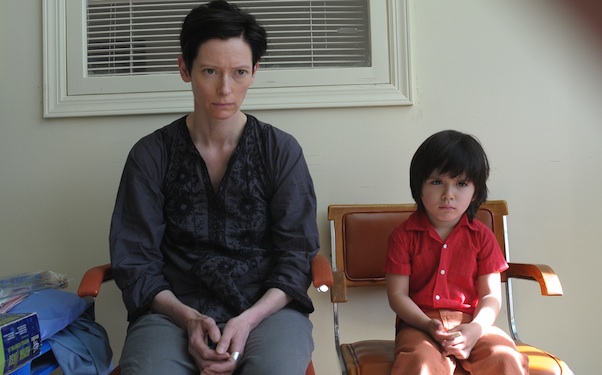 Posted by Matt Singer on
Countdown to Top Ten 2K11 is a column with one simple goal: to help you decide what films you need to see before making your end of the year top ten list. Each installment features my thoughts on a critically acclaimed 2011 movie, a sampling of other critics' reactions, the odds of the film making my own list, and the reasons why it might make yours.
This time we're covering "We Need to Talk About Kevin," the disturbing story of a mass murdering kid and his shell-shocked mom. But will this mother-son drama end up as the big daddy on your year-end top ten list? Let's find out.
Movie: "We Need to Talk About Kevin"
Director: Lynne Ramsay
Rotten Tomatoes Score: 84%
Plot Synopsis: A woman struggles to come to grips with her teenage son's brutal crimes, which have left her a pariah and an outcast in her hometown.
What the Critics Said: "A bleak meditation on the inexorable power of nature," Dana Stevens, Slate
"Easily 2011's grimmest motion picture," James Berardinelli, ReelViews
"Part horror, part drama, part cautionary tale," Laremy Legal, Film.com
Were They Right? It might not be the absolute grimmest motion picture of the year — "I Saw the Devil" wasn't exactly an uplifting portrait of humanity at its best, either — but it's definitely in the discussion. This is a two hour journey into the soul of a broken woman. Her son is a murderer and everyone she knows hates her because of it. She hides in her house, drinking away the pain. In other words: you can leave your funny bone at home when you head out to the theater for "We Need to Talk About Kevin." You won't be needing it.
But while the film is grim, it never becomes tedious or depressing. That's because Eva, the woman grappling with all that guilt and self-loathing, is played by Tilda Swinton, one of the best actors in the universe and, true to form, she delivers an incredible performance here. The movie bounces back and forth between Eva's past and present, and in order to differentiate the time frames Swinton wears two different looks: short, hip hairstyle in the past; long, drab 'do in the present. But Swinton's so good at demarcating the two Evas with posture and body language that she doesn't need the visual shorthand (or short hair, in this case). You can even tell which Eva you're watching without watching at all. If you closed your eyes during the movie and just listened to the way Swinton modulates her voice, you'd know where and when you are. She's fantastic.
The series of kids who play her devil spawned son Kevin are excellent as well, especially elementary-school-aged Jasper Newell, one of the most convincing bad seed psycho-tots I've ever seen onscreen. Kevin, it seems, was just born evil. He cries non-stop as a baby, won't talk as a toddler, then refuses to use the toilet because he prefers to make his mother clean up his crap. Then again, Eva may not be completely innocent here (I, for one, would have reconsidered my husband's purchase of an archery set, especially after my son started shooting arrows at my head). A self-described "adventurer" and world-travelling author she was clearly uncomfortable in the role of mother and never really warmed to her baby the same way her husband Franklin (John C. Reilly) did. The mental chess game between mother and son is riveting, and because we always know Kevin's endgame, it's absolutely chilling too.
Director Lynne Ramsay's work with Swinton is incredible, but I was less enamored with some of her stylistic choices. The complex editing structure in which sound and images trigger sudden jumps between memory and reality effectively conveys the feeling of living in one time while being trapped by memory and guilt in another. But too often the trigger is the massive splatter of red paint that someone douses on her house and her car. So many scenes feature Eva cleaning up that paint, scrubbing and scraping and sanding it until her hands are caked in blood-like redness. It's an effective visual representation of her unshakable grief, but it's also a bit too on-the-nose. On the other hand, I found the final conversation between Eva and Kevin way too obtuse and anti-climactic. The whole movie builds to a confrontation that resolves nothing. I've no doubt Ramsay wanted to suggest that some of life's worst horrors have no explanation. Maybe that's viewpoint is just too grim for me.
Worthy of an Oscar Nomination For: Best Actress (Tilda Swinton), Best Editing (Joe Bini).
Chances of Making My Top Ten: The strength of the structure and the acting make it close, but the ending might keep it off. I'd say its chances are slightly worse than the chances that the woman who brought her baby to the theater with her to see "We Need to Talk About Kevin" regretted that decision.
It Might Make Your Top Ten List If: you're a big Tilda Swinton fan; you dig time-drunk character pieces; you believe children are evil and have been searching for a movie to show your spouse to ensure he or she never asks you about having kids ever again.
"We Need to Talk About Kevin" is now playing in New York and Los Angeles. It expands to more theaters in January.
Previously in Countdown to Top Ten 2K11
"Point Blank," directed by Fred Cavayé
"The Arbor," directed by Clio Barnard
"Cold Weather," directed by Aaron Katz
"Meek's Cutoff," directed by Kelly Reichardt
"Margin Call," directed by J.C. Chandor
"Bill Cunningham New York," directed by Richard Press
"Hanna," directed by Joe Wright
Have a movie you wanted covered in a future installment of Countdown to Top Ten 2K11? Let me know on Twitter.