Watch "Pulp Fiction" reedited in chronological order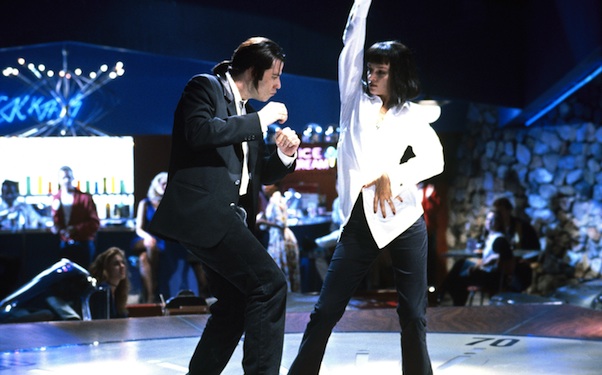 Posted by Matt Singer on
Well, if your weekend calendar was looking a little empty, here's something to do. You can watch Quentin Tarantino's "Pulp Fiction" reedited by YouTube user "crimewriter95" so that all the scenes play out in chronological order. Instead of beginning with Pumpkin and Honey Bunny in the diner, the film now kicks off with Christopher Walken giving Butch his father's watch. Interestingly, the second scene in both cuts is the same: Vincent and Jules driving and discussing Royales With Cheese. You can find the rest of the differences yourself.
I have seen chronologically disjointed movies that have been rejointed before, like the easter egg on the "Memento" Special Edition DVD that allows you to watch a chronological cut of the film. Generally I find these experiments interesting but less effective than the director's intended version. Still, I'm curious to see this cut of "Pulp Fiction." It's a film where sequences aren't just jumbled (characters die, then reappear in scenes that took place before their deaths), they're also repeated from different perspectives. How do you "chronologically" cut together Honey Bunny and Pumpkin from the beginning of the film with Vincent and Jules at the end of it since the two conversations are happening simultaneously? Crimewriter95's solution was to cross-cut between the two, one chunk at a time. Interesting? Yes. Effective? I'll let you decide.
I leave you with what might be the greatest YouTube comment of all time, left below the chronological "Pulp Fiction" edit by user "tke434":
"I had to do this as an assignment when pledging my fraternity almost 12 years ago. This brings back a lot of memories, two VCRs and bottle of Whiskey."
Drunkenly assembled chronological "Pulp Fiction?" That sounds like fun. Now you know what you're doing next weekend too!
What do you think of "Pulp Fiction" in chronological order? Tell us in the comments below or write to us on Facebook and Twitter.
[H/T Bleeding Cool]