The top 10 coffee scenes in movies (with video)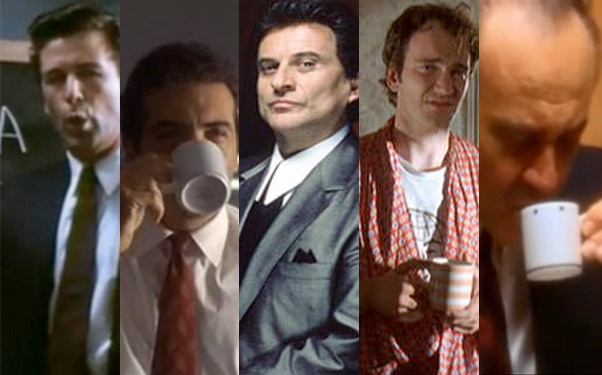 Posted by Brian Warmoth on
David Lynch, Meg Ryan and Jim Jarmusch all have one thing in common–for some reason, coffee has been a recurring set piece over the course of their careers. The ubiquitous caffeinated beverage's power to stimulate the brain and draw people together over conversation has propelled storylines in many of their films, and they are not alone.
For a while back in 2006, it even looked like Tom Hanks and Gus van Sant might make a movie about the international coffee peddler Starbucks' ability save down-and-out families. We have yet to see the "How Starbucks Changed My Life" film go into production, but countless other actors and directors have slipped in sips of java to keep scenes percolating.
Here are ten of the most memorable examples.
---
10. Agent Kujan makes a mess, "The Usual Suspects" (1995)
Nothing punctuates a moment of surprise in a movie quite like a coffee cup shattering on the floor — except, of course, a coffee cup shattering on the floor three times in a row. Agent Dave Kujan (Chazz Palminteri) gets his milky java all over his office when he finally puts the pieces together at the end of "The Usual Suspects," and it's one of the great "a-ha!" moments in all of film. You really have to feel bad for whoever had to clean it up.
---
9. Kato's coffee machine, "The Green Hornet" (2011)
Britt Reid (Seth Rogen) learned a great deal from his late dad's mechanic Kato (Jay Chou) in "The Green Hornet." One of these magical unveilings involved a nearly Willy Wonka-sized hand-built coffee maker, which Kato used to dispense espresso. Most impressive of all, however, was his ability to quickly and confidently execute a fancy, wavy milk-pour. What other superhero sidekick can double as a barista with that level of talent?
---
8. Tommy asks for his coffee to go, "Goodfellas" (1990)
Stacks (Samuel L. Jackson) doesn't see it coming when Tommy DeVito (Joe Pesci) shows up to put a bullet in the back of his head–partially because Tommy keeps an air of normalcy going by asking Frankie (Frank Sivero) to make a pot of coffee. In a classic Pesci moment after the hit, Tommy tells Frankie to make the coffee to go and then berates him for not understanding that the request was a joke.
---
7. When Hamilton met Meg, "Best in Show" (2000)
In a tale that could have been directly inspired by Tom Hanks' "You've Got Mail" monologue, Hamilton (Michael Hitchcock) and Meg Swan (Parker Posey) relate how they met through their Starbucks habits. Thankfully for the both of them, Hamilton mustered up the courage to cross the street from one Starbucks to another and break the ice. Meanwhile, his grande espresso habit probably makes him the most caffeinated character on this whole list.
---
6. Love by the toilet, "Amélie" (2001)
In an effort to bring two awkward, would-be lovers together, Amélie Poulain (Audrey Tautou) takes the innovative approach of spilling hot coffee on Georgette (Isabelle Nanty) and tricking her into barging into the restroom while Joseph (Dominique Pinon) is cleaning himself up. The momentary scalding turns out to be well worth the pain in the end, as Amélie vents some loud steam to cover up the sounds of Georgette's moment of pleasure.