Tom Cruise talks "Top Gun 2" and why he wants to see it made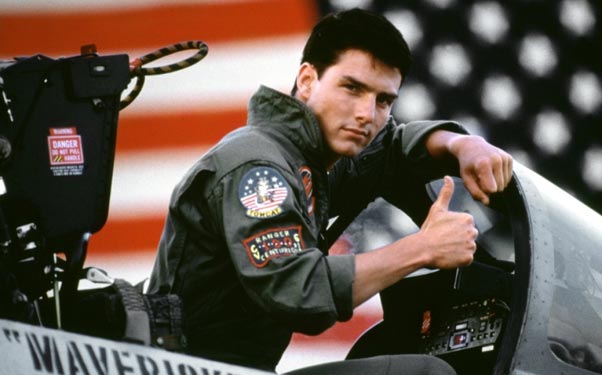 Posted by Terri Schwartz on
Not only is "Top Gun 2" actually in the process of being developed right now, it also has Tom Cruise's backing.
The actor has been making media rounds promoting his upcoming flick "Mission: Impossible — Ghost Protocol," and during an interview MTV News asked him about his commitment to the project. It turns out that his interest largely stems on the fact he wants to work with director Tony Scott again.
"I said to Tony, I want to make another movie with him. He and I haven't made a film since 'Days of Thunder,'" Cruise explained. "Tony and I and Jerry [Bruckheimer], we never thought that we would do it again. Then they started to come to us with these ideas of where it is now. I thought, 'Wow, that would be … what we could do now."
For the uninitiated, the first news of "Top Gun 2" popped up last October when "Valkyrie" screenwriter Christopher McQuarrie said he and Paramount were working on an idea for "Top Gun 2" with Cruise, Scott and Bruckheimer all returning. Fast-forward to this October when McQuarrie was replaced by "X-Men: First Class" scribes Ashley Miller and Zack Stentz to complete the project.
The key to the upcoming flick is, in Scott's words, that "it's not even a reinvention, it's not even a sequel. It's a re-thinking." Apparently this time the "Top Gun" story will be told from the perspective of "guys sitting in Nevada on computers playing war games" and follows the "end of the generation of fighter pilots." Needless to say, it's "a very different movie."
It seems like it's that component of the story that drew Cruise to the project.
"I hope we can figure this out to go do it again. If we can find a story that we all want to do, we all want to make a film that is in the same kind of tone as the other one and shoot it in the same way as we shot 'Top Gun,'" he said. "We're working on it."
Do you want to see a "Top Gun 2"? Tell us in the comments section below or on Facebook and Twitter.