"Tinker Tailor Soldier Spy," reviewed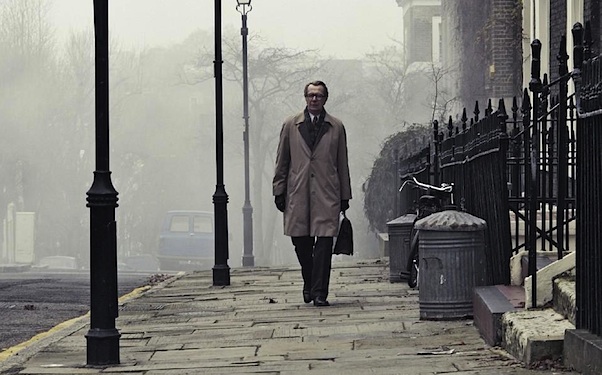 Posted by Matt Singer on
Director Tomas Alfredson's last film was the unorthodox vampire story "Let the Right One In," a title that would also fit Alfredson's new film, "Tinker Tailor Soldier Spy." This adaptation of the famous John le Carré novel is set in the world of British Intelligence circa the 1970s, but it's less about espionage than it is about trust. "Tinker Tailor" is all about letting the right ones in: the right spy, the right friend, the right lover. This is a smart and impeccably crafted film, but its tone is so bleakly cynical and its characters are so stingy about revealing their allegiances of heart and country, that the audience gets left out in the cold along with the disavowed field agents.
The icy center of this chilly affair is George Smiley (Gary Oldman), a lifer at England's MI:6 (a.k.a. The Circus) until a mission in Hungary goes belly up and Smiley and the master of The Circus, Control (John Hurt), are forcibly retired. After Control passes away, Smiley is recruited to spy on the spies: there's a mole somewhere in MI:6, and it's up to Smiley and a small team of men to figure out who it is (the title is a play on the code names of the four main suspects).
The men of le Carré's Circus, who were inspired by the author's own time working in British Intelligence, will never be confused for James Bond, not even the "scalphunters" like Ricki Tarr (Tom Hardy) who actually perform tasks besides sitting around in soundproofed conferences rooms. They're backbiting bureaucrats, office drones, scheming adulterers, and above all, paunchy middle-aged schlubs with terrible haircuts. They own drab houses and throw lame Christmas parties. Of course this is what real spies must look like. It would be awfully hard to infiltrate an enemy country with a flamboyantly chiseled eight-pack and an Aston Martin that transforms into a nuclear submarine.
But while Smiley and his people make wonderful secret agents, they don't make ideal film protagonists. They're so remote and unreadable that there's no suspense, let alone drama, in their mole hunt. "Tinker Tailor Soldier Spy" isn't really a thriller at all. Alfredson and screenwriters Bridget O'Connor and Peter Straughan are much more interested in exploring the minutia of day-to-day life in The Circus than in supplying genre entertainment, and as a dreary slice of life about people living in a state of perpetual unease, "Tinker Tailor"'s a qualified success — with the qualification being it's an awfully sluggish one.
I wouldn't begrudge anyone who enjoyed "Tinker Tailor Soldier Spy." It has one of the very best ensembles of any film this year (the stellar British cast includes Colin Firth, Mark Strong, and Toby Jones) and the period details of 1970s London, all of them seemingly shot through a haze of Lucky Strikes smoke, look incredible. Oldman is suitably inscrutable as Smiley, and you'll have some fun just studying his unreadable face and trying to figure out what the hell he's thinking. But personally, I wanted "Tinker Tailor" to feel more alive. I understand that it's about the heavy toll the Cold War spy game took on the people who played it. I just wish it didn't take such a heavy toll on the viewer's patience. In this case, it's not about letting the right one in; the movie itself never even lets you get that close.
"Tinker Tailor Soldier Spy" is in theaters now. If you see it, let us know what you think. Tell us in the comments below or write to us on Facebook and Twitter.