Call-In Commentary: Watch "The Sitter" trailer with director David Gordon Green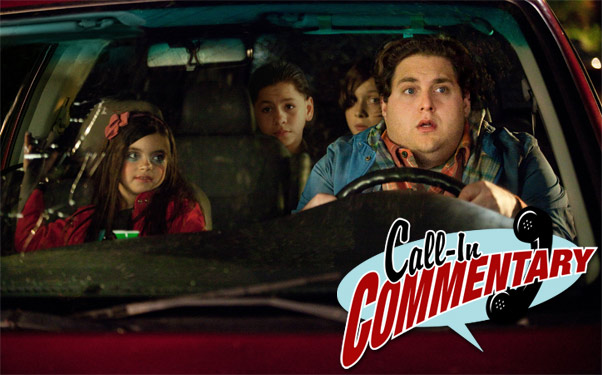 Posted by Brian Jacks on
Would you trust foul-mouthed, girl-chasing Jonah Hill with your kids? That's the focal point of "The Sitter," the "Superbad" star's newest R-rated comedy. In the film, Hill is pressed into babysitting duties with a trio of attitude-ridden kids, and is soon embroiled in one misadventure after another.
The man behind the madness is David Gordon Green, the "George Washington" auteur who delivered "Pineapple Express" and "Your Highness" to the stoner crowd and is now going for rauch-inspired laughs (before he heads to the horror genre). To get an insider's take on "The Sitter," we recruited Green for our "Call-In Commentary" series where filmmakers provide narration to their movie trailer. In the video below, hear Green describe the inspirations for the film, how the cast improvised and more. "The Sitter" hits theaters today.
MORE CALL-IN COMMENTARIES:
– Watch the "My Week with Marilyn" trailer with director Simon Curtis
– Watch the "Shame" trailer with writer-director Steve McQueen
– Watch the "American Reunion" trailer with writer-directors Jon Hurwitz and Hayden Schlossberg
– "Trespass" trailer with director Joel Schumacher
View all Call-In Commentaries…
Will you be checking out "My Week with Marilyn"? Let us know below or on Facebook or Twitter.