"The Hunger Games" poster shows the world is watching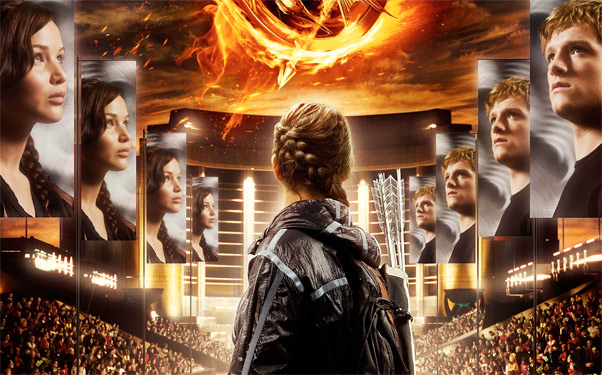 Posted by Terri Schwartz on
The world will be watching, and so will we, when "The Hunger Games" begin on March 23. Yesterday marked the start of a viral event where 100 different websites (including IFC!!) received different pieces of a jigsaw puzzle that would come together to be the new poster for "The Hunger Games." Yes, that many websites are excited for this film.
Needless to say, it didn't take very long before Photoshop wiz enthusiastic fan John Howard completed the poster after all the puzzle pieces were revealed. Let's just say it's a marked step up from the first motion poster was released.
Fans have been complaining that the recent marketing for "The Hunger Games" has been too focused on leading lady Katniss's relationship with her longtime friend Gale (Liam Hemsworth) instead of with her fellow District 12 tribute Peeta. Well, no longer. This poster showcases both Katniss (Jennifer Lawrence) and Peeta (John Hutcherson) as the two tributes being put before the Capitol in the Hunger Games, and — as the tagline says — the world is watching them.
We love the way those poster plays on the reality TV component of the Games by having Katniss's and Peeta's faces shown on giant screens before the audience in the Capitol. Judging from this poster and the trailer, it seems like the movie is going to play up that element of the story more than the novel could. In addition, of course, the flaming Mockingjay pin is top and center on the poster after being front and center on the previous one. Hooray, consistent imagery!
"The Hunger Games" tells the story of Katniss Everdeen, a 16-year-old girl from the poor District 12 section of the futuristic country Panem who volunteers herself into the annual Hunger Games to take the place of her sister. In the Hunger Games, she must fight to the death against 23 of her peers on national television to win fame and fortune to her District. But Katniss only thinks about her survival and returning to her family, and that's what gives her the edge. "The Hunger Games" hits theaters on March 23, 2012.
Did you like the new poster as much as we did? Tell us in the comments section below or on Facebook and Twitter.