First trailer for "The Hobbit" offers an early look at Bilbo Baggins' greatest adventure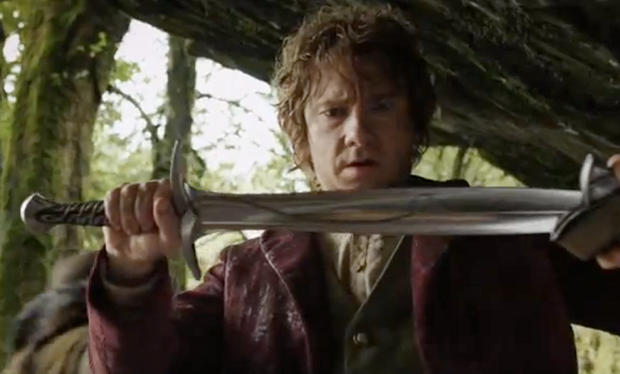 Posted by Rick Marshall on
The first trailer for Peter Jackson's "The Hobbit: An Unexpected Journey" has finally been released, offering the public their first look at the "Lord of the Rings" prequel and the early adventures of diminutive hero Bilbo Baggins.
Featuring a nice segue from the tale he brought to life in the "Lord of the Rings" trilogy, the first footage from Jackson's return to Middle Earth gives us a nice look at Martin Freeman as Bilbo — the character portrayed by Ian Holm in Jackson's previous trilogy.
For those not up on their Middle Earth history, "The Hobbit" unfolds approximately 60 years before the events of "Lord of the Rings," and chronicles Bilbo's first adventure with the wizard Gandalf (Ian McKellen) and a band of dwarves led by Thorin Oakenshield (Richard Armitage). On a quest to rid the land of the fearsome dragon Smaug, Bilbo and his fellow adventurers battle giant spiders, fearsome orcs and goblins, and even a few elves.
Bilbo's journey will also lead to a fateful encounter with Gollum, and a piece of treasure that will change his life forever.
The film also stars Cate Blanchett, Hugo Weaving, Elijah Wood, Orlando Bloom, Andy Serkis, Luke Evans, Benedict Cumberbatch, Evangeline Lilly, and Stephen Fry. "The Hobbit: An Unexpected Journey" hits theaters December 14, 2012.
You can watch the trailer for "The Hobbit" in HD via Apple, or give it a look below:
What did you think of the first trailer for "The Hobbit"? Chime in below or on Facebook or Twitter.