"The Hobbit" premiere countdown begins with release of the official synopsis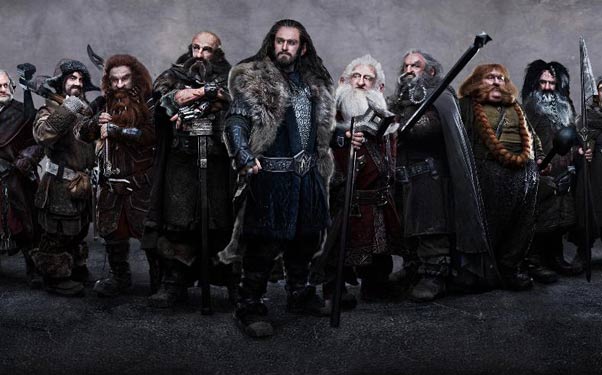 Posted by Terri Schwartz on
Unless you've been living under a rock for the past seven and a half decades, chances are you know what the plot of "The Hobbit" is. Bilbo Baggins teams up with some dwarves, finds a ring, fights a dragon, blah blah blah. But no matter how well we all know J.R.R. Tolkein's classic story, it doesn't make us any less excited about the fact that the live-action adaptation of the novel is coming to theaters in two parts, the first one premiering exactly one year from today. To honor this special occasion, the studio has released an official plot synopsis of the pair of movies that we have included below.
The adventure follows the journey of title character Bilbo Baggins, who is swept into an epic quest to reclaim the lost Dwarf Kingdom of Erebor from the fearsome dragon Smaug. Approached out of the blue by the wizard Gandalf the Grey, Bilbo finds himself joining a company of thirteen dwarves led by the legendary warrior, Thorin Oakenshield. Their journey will take them into the Wild; through treacherous lands swarming with Goblins and Orcs, deadly Wargs and Giant Spiders, Shapeshifters and Sorcerers.

Although their goal lies to the East and the wastelands of the Lonely Mountain first they must escape the goblin tunnels, where Bilbo meets the creature that will change his life forever…Gollum.

Here, alone with Gollum, on the shores of an underground lake, the unassuming Bilbo Baggins not only discovers depths of guile and courage that surprise even him, he also gains possession of Gollum's "precious" ring that holds unexpected and useful qualities … A simple, gold ring that is tied to the fate of all Middle-earth in ways Bilbo cannot begin to know.
Fortunately, this isn't the only thing in the pipeline set to get us excited about the return to the Shire. The trailer for "The Hobbit: An Unexpected Journey" is rumored to premiere before "Sherlock Holmes: A Game of Shadows" on Friday. IFC already got a chance to see it during this past weekend's Butt-Numb-A-Thon and said that elements of it were "a thing of beauty." Consider us pumped.
"The Hobbit: An Unexpected Journey" hits theaters on December 14, 2012 and "The Hobbit: There and Back Again" comes out the following year on December 13, 2013.
Are you as excited for "The Hobbit" films to come out as we are? Tell us in the comments section below or on Facebook and Twitter.