"The Girl with the Dragon Tattoo," reviewed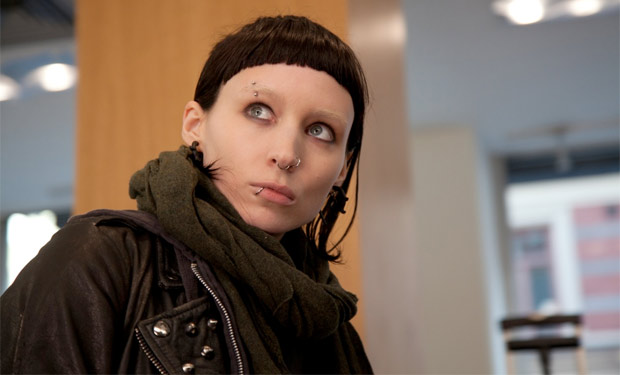 Posted by Matt Singer on
One word describes the tone, setting, and pacing of David Fincher's adaptation of Stieg Larson's wildly popular novel, "The Girl With the Dragon Tattoo." That word is glacial. Its portrait of modern Sweden is bleak and bitterly cold, its story is sad and sordid, and its opening and closing scenes are extremely distended. Will fans of the book like the new movie anyway? As someone who's never read Larson's work or watched the Swedish films based on his Millennium Trilogy, I'm probably not the best person to ask. Based on my conversations with readers of Larson's books, Fincher's film seems like a fairly faithful adaptation. To this neophyte observer, "Dragon Tattoo" plays as an effective and stylish, if someone bloated mystery and that's about it. It's not a particularly dynamic film — by Fincher's standards, the direction is positively restrained — and it's not a particularly compelling character drama. It really only works as an absorbing detective story, one which I feel like the last person on earth to absorb. Attendance isn't in doubt; the film will be a big hit. But will the people who come like it? Is it fun rehashing a mystery you already know the solution to?
That mystery begins when a magazine editor named Mikael Blomkvist (Daniel Craig) is found guilty of libeling a prominent Swedish businessman. Desperate for an escape from his crumbling professional life, he receives one in the form of an invitation to a remote private island, where another powerful Swedish industrialist makes him an offer. Henrik Vanger (Christopher Plummer) will hire Blomkvist under the guise of writing his memoirs; in reality, he wants him to solve a decades-old family mystery involving the death of his beloved niece Harriett. Eventually Blomkvist's investigation requires a research assistant, which is where the titular heroine, an antisocial bisexual goth biker hacker ward of the state named Lisbeth Salander (Rooney Mara), comes in. To this point, Lisbeth's been caught in her own side story involving abuse and exploitation, one which makes her particularly enthusiastic to help Blomkvist catch what he calls "a killer of women."
The plot, adapted by screenwriter Steven Zaillian, takes a long time to put its two main characters in a room together and until it does, the whole film — save two infamous and brutal scenes of violence — moves sluggishly. For a while, I was at a loss to understand the material's worldwide appeal. Then it becomes clear: a badass feminist heroine who strikes back with merciless gusto at her abusers, and an odd couple of investigators as deliciously mismatched — and as resourcefully inventive — as Holmes and Watson. Craig and Mara makes a feisty, funny team, and they both show a knack for making the minutia of historical research look absolutely riveting. Their interplay brings this whole chilly endeavor to life, and even brings the faintest hints of warmth to the film's arctic color palette. The beautiful way the cinematographer Jeff Cronenweth's icily gorgeous imagery slowly morphs from blues and grays to yellows and browns is a subtle and clever way of representing how 'hot' or 'cold the serial killer's trail is at any particular moment.
The raw materials of "The Girl With the Dragon Tattoo" provide Fincher the opportunity to revisit many of the themes that have defined his stellar career to date: the inner workings of a serial killer's mind from "Se7en;" the anti-capitalistic impulses of "Fight Club;" the sprawling, obsessive investigation of a seemingly unsolvable crime in "Zodiac;" the alluring godlike power of hackers from "The Social Network." Too bad Fincher doesn't use that opportunity to say anything new about any of those subjects, maybe because he was expected to treat the novel so reverently that he never really could. Whatever the reason, he handles the material competently, but not exceptionally. As creepy as it might be to say, "The Girl With the Dragon Tattoo" is David Fincher working in his comfort zone (for him, it could be called a discomfort zone). I enjoyed the film to an extent, but I didn't know what was going to happen. Odds are, you already do.