"The Dictator" trailer shows Sacha Baron Cohen bringing absolute power to America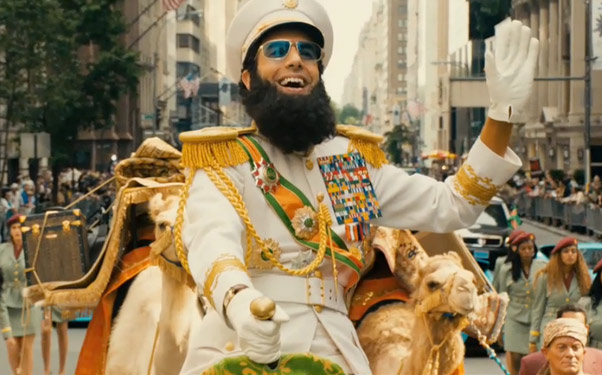 Posted by Terri Schwartz on
It's nice to see a return to form for Sacha Baron Cohen. Ever since 2009's "Bruno," the hilarious impersonator has set his alter-egos aside onscreen for roles in "Hugo" and the upcoming "Madagascar 3: Europe's Most Wanted" and Quentin Tarantino's "Django Unchained." That's why we were so happy to see that he was also working on the comedy "The Dictator" based on a script he wrote, following the happy tradition of "Bruno," "Borat" and "Da Ali G Show."
Needless to say, Cohen is one of the funniest comedians around. And if if we needed more evidence, a trailer for "The Dictator" has finally hit the web and it proves that Cohen is still as hilarious as ever.
"The Dictator" looks to be a cross between the faux-documentary-style filmmaking that Cohen popularized in "Borat" and "Bruno" and a straight-scripted comedy. The inclusion of actors like John C. Reilly, Ben Kingsley, Anna Faris and Megan Fox proves that it's a force to be reckoned with, but the trailer plays the movie off as being in line with Cohen's earlier films.
The official synopsis of the project is a comedy that "tells the heroic story of a dictator who risked his life to ensure that democracy would never come to the country he so lovingly oppressed." That should pretty much set the bar for what fans can expect when they walk into theaters on May 11. The funniest scene in the trailer definitely comes at the end when Cohen's titular dictator takes on some competitors in a sprint race. Needless to say, he has his own brand of hilarious absolute power.
Did you find the trailer as humorous as we did? Tell us in the comments section below or on Facebook and Twitter.