Countdown to Top Ten 2K11: "The Descendants"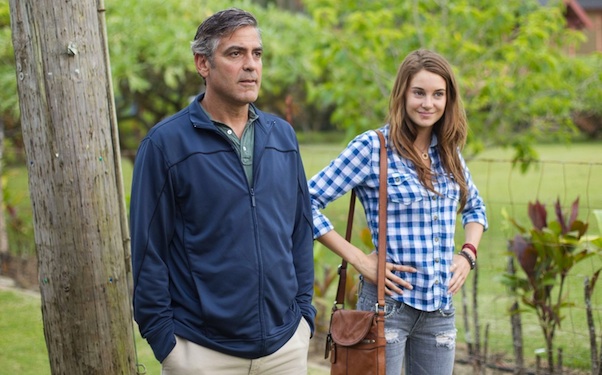 Posted by Matt Singer on
Countdown to Top Ten 2K11 is a column with one simple goal: to help you decide what films you need to see before making your end of the year top ten list. Each installment features my thoughts on a critically acclaimed 2011 movie, a sampling of other critics' reactions, the odds of the film making my own list, and the reasons why it might make yours.
This time we're covering "The Descendants," in which George Clooney plays a family man besieged by personal and professional crises. The film's already racked up a Best Picture award from the Los Angeles Film Critics Association and a Best Actor and Supporting Actress from the National Board of Review. But is it worth selling your first born child to see it? Let's find out.
Movie: "The Descendants"
Director: Alexander Payne
Rotten Tomatoes Score: 89%
Plot Synopsis: A distant father and husband (Clooney) is forced to reassess his priorities after his wife is severely injured in a boating accident while he's trying to decide what to do with his family's inheritance: the last piece of unspoiled land left in Hawaii.
What the Critics Said: "A serious movie that happens to have a sense of humor," Leonard Maltin, indieWIRE
"The noblest kind of satire: cruel and yet, in the end, lacking the killing blow," David Edelstein, New York
"Clooney anchors the film with his customary rock-solid charm," Eric D. Snider, Film.com
Were They Right? I would agree with all of these critics. "The Descendants" is less of a comedy than an occasionally funny drama; it's a warm and not especially cruel satire; and Clooney certainly anchors the film with dependable charm. But I think I also liked the movie less than these fine gentlemen. Yes, it's a serious movie with some laughs — but it would be a serious movie with more laughs if the jokes and observations in it were a little bit funnier. The satire could use a little edge; maybe not a "killing blow," but at least one hard punch to the gut. And Clooney… all right so Clooney is pretty fantastic. His performance as Matt King, Honolulu lawyer and accidental land baron, is as beautiful as his family's parcel of priceless beachfront property and as casual as his wardrobe of Hawaiian shirts and khakis. He's the reason to see this movie.
The film is ultimately about something I recently heard Jerry Seinfeld describe on his current stand-up tour: the fact that everyone's life sucks but that the divide between "sucks" and "great" isn't as wide as you might think. Matt lives in Hawaii, but as his opening voiceover insists, the place isn't the utopian paradise we imagine. The people who live there have problems as real and as painful as ours. They just deal with them while wearing sandals and watching the sun set over the Pacific.
The set of circumstances Matt finds himself in are curious ones, and it's incredible to watch Clooney develop the character as those circumstances continually evolve over the course of the film. As "The Descendants" begins, Matt's wife gets into a terrible accident during a boat race. A few weeks earlier, Matt was probably an uncomplicated, easygoing guy who thought he had everything figured out. But now the shock causes him to rethink his life. Maybe he should spend more time with his wife and two daughters. And maybe the land deal he and his extended family are considering, which would make them all rich but turn the last virgin piece of land on the Hawaiian islands into a condo and box store ridden nightmare, isn't such a good idea.
"The Descendants" has a few more twists in store for Matt and his family, and while they're good for a few chuckles, a lot of them also distract from these more interesting moral dilemmas. Payne seems to be trying to infuse his wandering narrative with the laid-back tropical vibe adopted by so many island residents. He may have nailed it a little too perfectly. He may have also tried to cram too many plot threads into such leisurely paced film; for a movie about life and death and million-dollars decisions, there are too many digressions and not enough urgency. In the end, the gravity of Matt's choices feels totally diminished. His daughters, played by Shailene Woodley and Alexandra King, are both good young actors, but some of the other supporting cast members around them seem unsure whether they're in a comedy or drama. Again, that might have been Payne's intent, to portray life as a mixture of laughter and tears, but some of these people feel like they're from two totally different movies. The tone, material, and the acting, are all less assured than Payne's last film, the wonderful "Sideways," which was another (but far more effective) movie about a morally confused middle-aged man learning to let go.
"The Descendants"' problems aren't reason enough not to see it; it's still a fine film. It's not that far from being a great film. But as we've already established, the line between sucks and great is perilously close.
Worthy of an Oscar Nomination For: Best Actor (George Clooney).
Chances of Making My Top Ten: About as good as me inheriting virgin land in Hawaii.
It Might Make Your Top Ten List If: that whole "distance between sucks and great" thing strikes a really profound chord; you love when movie stars remind us they can also act; Beau is your preferred Bridges brother.
"The Descendants" is now playing in limited release. If you see it, tell us what you think in the comments below or write to us on Facebook and Twitter.
Previously in Countdown to Top Ten 2K11
"We Need to Talk About Kevin," directed by Lynne Ramsay
"Point Blank," directed by Fred Cavayé
"The Arbor," directed by Clio Barnard
"Cold Weather," directed by Aaron Katz
"Meek's Cutoff," directed by Kelly Reichardt
"Margin Call," directed by J.C. Chandor
"Bill Cunningham New York," directed by Richard Press
"Hanna," directed by Joe Wright
Have a movie you wanted covered in a future installment of Countdown to Top Ten 2K11? Let me know on Twitter.