Five things we didn't see in "The Dark Knight Rises" trailer, but wanted to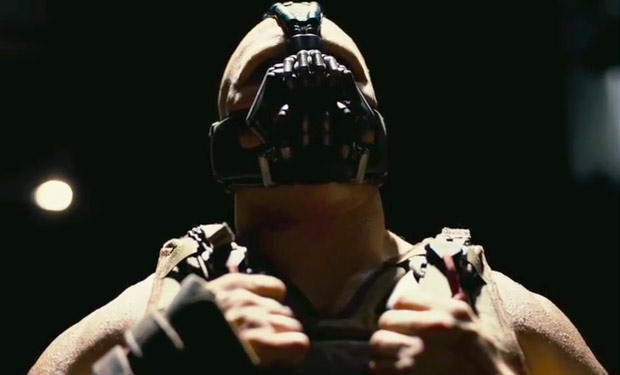 Posted by Rick Marshall on
Sure, there was a lot to digest in the new trailer for "The Dark Knight Rises," but let's face it — there's still a lot we haven't seen in previews for Christopher Nolan's upcoming conclusion to his big-screen Batman trilogy.
And while it's all well and good to leave some elements for the movie itself and not reveal everything before the film hits theaters, there are a few items of note that seemed conspicuously absent from the trailer. When it comes time for Nolan to cut the next trailer for the film, here's what we're still hoping to see before "The Dark Knight Rises" explodes into theaters.
video player loading
.
.
.
---
1. The Bat
Of all the things to skimp on in the trailer, Batman himself seems like a strange option. While we got to see lots of Bruce Wayne sans Bat-suit, the latest trailer only offered a few fleeting glimpses of Batman in full cape-and-cowl mode — though he was wielding an interesting rifle in one of them.
Still, given that each film has made a few tweaks to Batman's suit, it was frustrating not to have more evidence of what "The Dark Knight Rises" will add to Batman's costume. Mr. Nolan, bring us the Bat.
---
2. Bane's Bane
Sure, we've seen that Nolan's take on Bane will have him wearing something akin to the character's iconic mask, but we haven't seen any evidence that the character will also share his comic-book counterpart's affection for the chemical compound known "Venom." In the character's comics history, Bane used the powerful drug to give him enhanced strength and durability, which he eventually used to "break" Batman over his knee. His reliance on the drug proved to be both an asset and a liability, as he became dangerously addicted over the source of his criminal career.
Thus far, we've seen little evidence of any Venom in Bane's life, though there's a chance he might have alluded to this at some point in the trailer or "The Dark Knight Rises" prologue at some point — we're still trying to decipher what he said in that footage. (More on that in a bit.)
---
3. The Bat Family?
Right around the 1:50 mark in the trailer, there's a shot of two camouflage-colored versions of the Batmobile escorting what we know to be the movie's version of the Batwing. So, who's driving?
In the comics world, we've seen everyone from Robin to Alfred commandeer Batman's rides at one point or another, but we haven't seen his supporting cast take such a role in Nolan's films yet. Could "The Dark Knight Rises" also serve as an introduction for Robin or one of the other costumed characters that make up what's come to be known as "The Batman Family"? We're willing to bet that Robin is still off the table when it comes to the Nolan-verse, but maybe Joseph Gordon-Levitt will get in on the action in his role?
---
4. Catwoman's Catsuit
We've seen still images of Anne Hathaway decked out as the burglar Catwoman, but so far we haven't seen any action shots of Selina Kyle in full feline-friendly form, thieving from Gotham's wealthy elite.
It's a little surprising that the new trailer didn't seem to offer any indication of her costumed alter ego, and could potentially mean a smaller role for Hathaway's character than we were anticipating. Will we get to see the Cat strut her stuff, or will we spend most of the film reminding ourselves that Selina Kyle is Catwoman? Only time will tell, because the new trailer certainly doesn't give up any hints.
---
5. Subtitles?
Okay, so I'm not actually arguing for subtitles to be added to the film, but here's hoping Nolan can make a few tweaks to the sound in order to make Bane's voice a little more coherent. I know I wasn't the only person who had trouble understanding Hardy's dialogue, which sounded more like a drive-thru intercom than the intimidating force of nature that Bane is intended to be.
We know Hardy is a great choice for Bane on a number of levels, so here's hoping some audio troubles don't detract from what we're expecting to be an amazing performance.
What would you like to see in the next "The Dark night Rises" trailer? Chime in below or on Facebook or Twitter.