"The Dark Knight Rises" trailer offers explosive look at Nolan's grand finale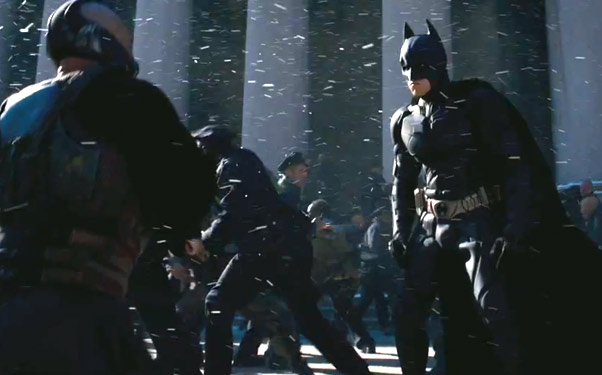 Posted by Rick Marshall on
The first trailer for "The Dark Knight Rises" has finally arrived, offering fans their first, official look at the preview for next year's trilogy-ending finale to Christopher Nolan's Batman franchise.
Promising to bring an "end" to the legend, the trailer offers quite a bit of footage showcasing Bane's explosive assault on Gotham, and hints that Bruce Wayne's life will be forever changed by impending events.
video player loading
.
.
.
Along with some shots of Tom Hardy as the mask-wearing Bane, we also get a look at Anne Hathaway as Selina Kyle — though there doesn't seem to be much evidence of her feline-friendly alter ego, Catwoman. There's also a quick shot of Joseph Gordon-Levitt as John Blake, a character whose role in the film remains a mystery to comic fans and cinephiles alike.
The new trailer also offers an example of an element of "The Dark Knight Rises" that has already received some criticism: Hardy's dialogue as Bane. Many who attended the recent screenings of "The Dark Knight Rises" prologue voiced some concern that Bane's garbled voice made it difficult to understand the character's dialogue.
Oh, and one final note: the trailer also provides a great look at what all of that filming in Pittsburgh's Heinz Field was leading up to, and even features a cameo from Steelers player Hines Ward in a wild, mid-game demolition scene.
You can check out the trailer over at the Apple website, and keep an eye on IFC.com for a list of Five Things We Didn't See Yet (But Want To) in "The Dark Knight Rises."