"The Dark Knight Rises" will feature nearly an hour of IMAX footage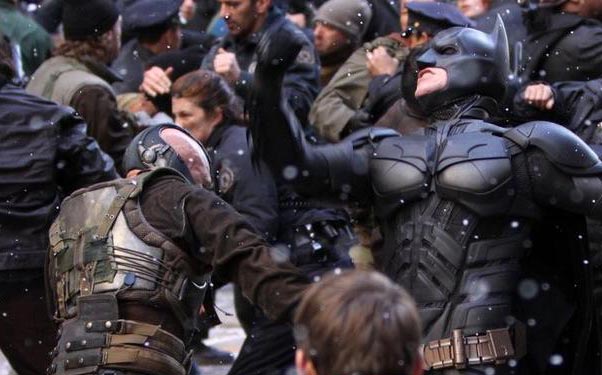 Posted by Brian Jacks on
Unless you've been hiding under a rock, it's no surprise that "The Dark Knight Rises" is heading to IMAX theaters with a bevy of footage native to the ginormous format. Now we have a little more information about exactly how much of the running time will be dedicated to IMAX, and it's a doozy.
At a sneak preview of the six-minute IMAX prologue, Slashfilm managed to speak briefly with director Christopher Nolan. The fan-favorite helmer revealed to the site that almost 50 minutes will be presented in true IMAX glory, which is one of the largest amounts ever for a mixed-format motion picture.
In speaking previously about his experience shooting with IMAX cameras, Nolan was nearly giddy on the experience, stating, "[S]hooting and projecting IMAX 15 perf 65mm/70mm film was inspiring. The immersive quality of the image goes beyond any other filmmaking tool available, and in revisiting Gotham, we were determined to shoot even more of the movie in this unique format. Giving the fans an early look at an IMAX sequence is a great way to draw attention to what I believe will be an incredible way to experience our story when it comes out next summer."
The IMAX prologue is scheduled to hit a couple dozen screens across the country, running before "Mission: Impossible – Ghost Protocol." According to reports, the prologue will introduce Tom Hardy's menacing villain, Bane, who takes over from the Joker and Two-Face as Batman's principal antagonist.
Will you plan on seeing "The Dark Knight Rises" exclusively on an IMAX screen? Let us know below or on Facebook or Twitter.