"Starship Troopers," a film which absolutely doesn't need a remake, getting remade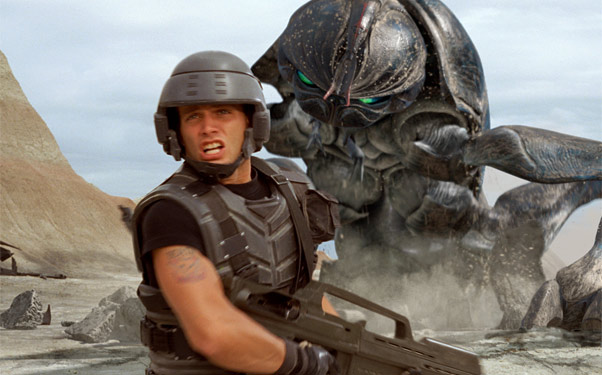 Posted by Brian Jacks on
Paul Verhoeven's "Starship Troopers" is a personal favorite of mine, perfectly combining legitimately fun sci-fi action with a deeply black comic take on militarism, patriotism and heroism. The 1999 movie adapted Robert A. Heinlein's 1959 novel, which was originally accused of playing up fascist ideas, but added Verhoeven's well-known satirical view of political and sociological themes. Like Verhoeven's "Robocop," the plots are interrupted by parodic commercials supporting his societal outlook and filled with outlandish, over-exaggerated scenes that still manage to completely fit within the story.
The film was followed by a series of direct-to-video sequels and an animated series, but it's the original which was fully embraced as a cult classic. So it's a little unnerving that Sony is now eying the film for a reboot, assigning "Thor" and "X-Men: First Class" writers Ashley Edward Miller and Zack Stentz to the script. Of course, as Vulture points out, they also wrote "Agent Cody Banks."
I don't begrudge them for that, however. Miller and Stentz have proven themselves as able storytellers. "Thor" and "X-Men" were two of the best superhero offerings in the last ten years. What's unfortunate is there doesn't seem to be a point to rebooting "Starship Troopers," unless they're planning to remain more faithful to the book. But that book, in today's climate, seems antithetical to current events where the United States is embroiled in a global war that most Americans would soon rather forget existed. Would audiences pack a theater to watch an allegedly pro-war tale?
My hunch is no, meaning those militaristic themes would be toned down for a new "Starship Troopers." But when you strip away Verhoeven's and Heinlein's various political bents, you're left with simply another war movie, and we saw what happened with "Battle: Los Angeles." And if you plan to keep the parody element, then why remake it at all?
Time will tell what happens with the project, but it's not one I'm awaiting with open arms. Let me know what you think in the comments below, or on Facebook or Twitter.