Communicating the "Magic and Light" of Spielberg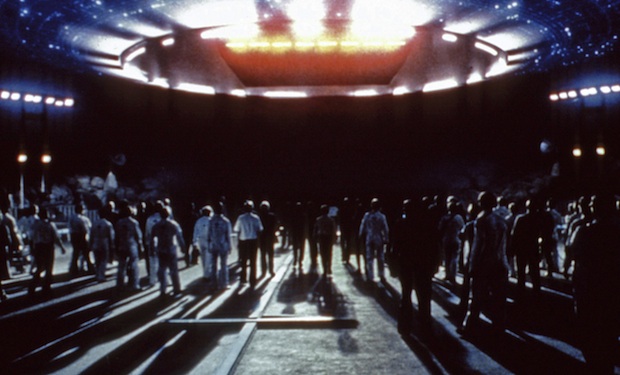 Posted by Matt Singer on
The team over at Press Play is in the midst of an impressively comprehensive study of director Steven Spielberg. Each chapter of their "Magic and Light" series deals with another facet of the popular filmmaker's career. They started with a video essay about the depiction of violence in Spielberg's work; later they examined the roles and representation of villainy in his work. That "chapter" was subdivided into four smaller videos, so when I say impressively comprehensive, you know I am not easily impressed (or comprehended. Wait…).
My favorite chapter of "Magic and Light" so far though was the one written and edited by Matt Zoller Seitz about the pervasive theme of communication in Spielberg's work. Like Kevin B. Lee's "The Spielberg Face," Seitz observes a fundamental but easily overlooked aspect of Spielberg's work, explaining its importance with clear writing and smart editing. Take a look:
Seitz's observations mesh perfectly with Spielberg's new films "The Adventures of Tintin" and "War Horse." Animals feature prominently in both films — Tintin's canine sidekick Snowy and the eponymous equine Joey, respectively — as do their attempts to bridge the communication gap between man and beast. Snowy is easily the smartest creature in "Tintin" but as a dog he can't directly communicate with the much dumber humans he spends his time with. He frequently struggles to get Tintin's attention with barks or grunts, or by tugging on his shirt. Joey's intelligence level isn't as cartoonishly high but at one point he functions in much the same way that Al Green's "Let's Stay Together" does to the Israelis and Palestinians in "Munich." In a delicate and moving scene set in No Man's Land on one of the battlefields of World War I, one German soldier and one English soldier find common ground as they try to save Joey from a tangle of barbed wire. In Spielberg's cinematic universe, beauty, purity, and goodness transcend the boundaries of country and especially language.
For more on the new Spielberg films, make sure you check out my reviews of "The Adventures of Tintin" and "War Horse." For the previous and future installments of "Magic and Light: The Films of Steven Spielberg," go to Press Play.
What's your favorite Steven Spielberg film? Tell us in the comments below or write to us on Facebook and Twitter.