Shelf Life: Harold Lloyd's silent classic "Safety Last"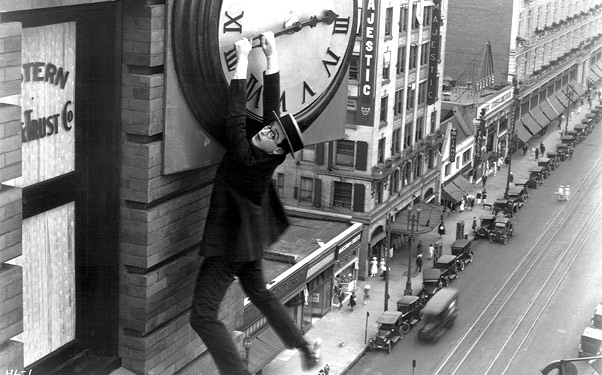 Posted by IFC on
With the simultaneous release of Martin Scorsese's "Hugo" and Michael Hazanavicius' "The Artist" in the past two weeks, audiences are discovering a whole world of entertainment that preceded the panoramic, 3D, stereoscopic experience they currently talk and text through: silent film. Apparently, for more than the first 30 years of filmmaking's existence, Hollywood actually made movies that had no audible dialogue, and relied only upon actors' expressions (and an occasional intertitle) to communicate what the heck was going on in the story. Consequently, it seemed appropriate to go back and try to dig up one of these old fossils and see if they could hold a candle to the emotional power (much less technical virtuosity) of today's greatest films, such as Jack and Jill.
Harold Lloyd, along with Charlie Chaplin and Buster Keaton, was one of the biggest stars of the silent era, creating dozens of films that enchanted audiences with fun, romantic stories, and the occasional feat of derring-do. Though it's little-seen in its entirety, the actor's "Safety Last" not only ranks among his most famous films, but it offers one of the earliest iconic images of on-screen action, of Lloyd hanging precariously from a clock high above the street below. (The selfsame image was an obvious inspiration for Hugo's poster.) With interest renewed in the delicate and beautiful art of silent filmmaking, it seemed appropriate to take a look back at one of its purported "classics," "Safety Last" – but how high does it actually rank?
---
The Facts
Released on April 1, 1923, "Safety Last" was only Lloyd's fourth feature-length film, but he'd already made almost 100 shorts, including a stunning 39 in 1919 alone. At the time of its release, it helped cement Lloyd as a star, and perhaps more significantly, one of the true fixtures of the silent era. A year later, Lloyd would part ways with his longtime collaborator (and "Safety Last" director) Hal Roach, and launched the Harold Lloyd Film Corporation, where he subsequently produced his own films. Meanwhile, the film maintains a 92 percent fresh rating on Rotten Tomatoes.
What Still Works
At 73 minutes, this little tale of an ambitious small town boy trying to make a name (and a fortune) for himself in the big city might seem too slight to leave an impression. But far beyond its iconic clock shot, "Safety Last" is a hugely entertaining, emotionally-involving story, anchored by Lloyd in the lead role. Having worked for more than a decade in silent by the time it was released, Lloyd had refined his too-smart-by-half screen persona to razor sharpness, and here he gets character out of one jam with as much dexterity as he gets him into another: propelled by his fiancee's mistaken impression that he's big and successful, the way he goes from department store clerk to human fly actually seems quite natural, and gives even its short running time epic scope. (Additionally, his physical dexterity on the side of the building, not just climbing but fully taking advantage of the building's vertiginous heights, is a marvel of poetic motion.)
The great thing about the silent era was the way in which filmmakers were forced to communicate so much without the use of a lot of superfluous, expository dialogue, which arguably has made audiences lazier in the sound era. The storytelling itself is a marvel of economy, injecting jokes into the narrative (and a narrative into jokes) without adding unnecessary embellishments or digressions. For example, there's a scene in which Lloyd's character (also named Harold) meets a hometown friend who's become a cop. In a moment of showing off, he tells his friend to play a prank on a police officer, but inadvertently picks the wrong cop, and while the gag is funny enough as a standalone set piece, it actually puts in motion Harold's eventual climbing of the outside of his department store.
Meanwhile, Roach's direction is similarly economical, although there are definitely some really clever, subtle flourishes that augment the humor where they might have played more obviously. For example, right before Harold's friend Limpy is set to start climbing the building, the cop who's after him shows up and starts snooping around. Lloyd races into action and leads the cop to a little shack, where he thinks he'll lock him in, but there's another door the cop exits through easily, and begins following Harold back to the store. While we see the cop behind Harold as he congratulates himself for his ingenuity, he doesn't notice him until he starts noticing a shadow following his in perfect rhythm, and it's a great, understated little revelation that gives the moment more emotional power – if only in terms of hilarity.
What Doesn't Work
If there's anything at all that could be faulted in "Safety Last", it's that perhaps by today's standards the humor is occasionally a little broad – not quite the stuff of slipping on a banana peel, but just about. (All of which is nothing a film like jack and Jill would exploit.) Truthfully, I don't find this problematic at all – there's a gag in "An Eastern Westerner" where he literally pulls the rug out from under two of his pursuers, then turns a fire hydrant on full blast into a ballroom, and it floors me. But I think it's rescued not just because of one's penchant for sight gags or simple goofs, but because of the effective creation of character, and especially in "Safety Last", you're pulling for this guy, even if he survives literally by hanging from his fingertips.
The Verdict
"Safety Last" is a great film that remains entertaining and involving today, and has aged only because of its technical limitations. Otherwise, it's fun, emotionally affecting, and absorbing in ways that quite frankly most modern movies aren't. New Line's 2005 box set features a wonderful transfer of that film as well as many other Lloyd classics, so make sure you check that out, because if you're looking for someone to call "the artist," you need look no further than him.
Leave your own memories of Harold Lloyd's "Safety Last" in the comments below or on Facebook or Twitter.