Schwarzen-Watch: Arnold's next will be "Black Sunday"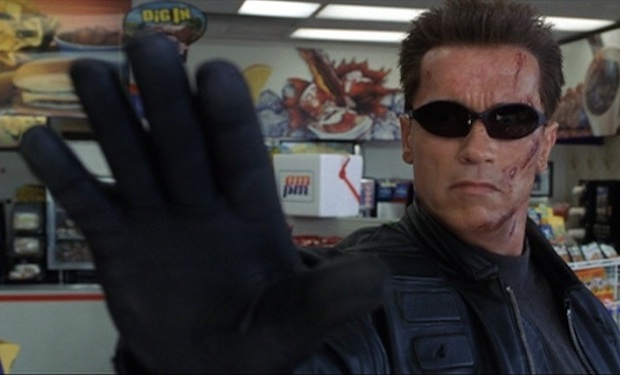 Posted by Matt Singer on
IFC.com's film writer, Matt Singer, is the biggest Arnold Schwarzenegger fan on the planet. He blogs any time any news about Schwarzenegger's return to acting, no matter how flimsy or improbable, hits the Internet.
232 days, people. We're just 232 days away from the greatest day in the history of cinema: the day Arnold Schwarzenegger returns to acting in "The Expendables 2." After "The Expendables 2," Schwarzenegger will star in Kim Ji-woon's "The Last Stand," and after that — according to TheArnoldFans.com — a project that's now called "Black Sunday."
The project, previously titled "Black Sands," will feature Arnold as "a kind of angel" fighting "a war against weapons dealers as an immortal instrument of death." In other words, no connection to John Frankenheimer's "Black Sunday," the 1977 film about terrorist piloting a Goodyear blimp into the Super Bowl.
The ArnoldFans also describes the film as a potential "cross between 'Constantine' and 'Commando.'" Personally, I'd prefer a cross between "Commando" and "Commando." I'm not entirely sure why an immortal instrument of death would assume the body of a 64-year-old man instead of a slightly younger and more virile form, but I'm sure that will be explained in due time.
"Black Sunday" is scheduled to go into production in New Mexico on April 1. That's just 94 days away.
Are you excited for Arnold's return to action movies? Say yes or we're going to have a problem, Tell us what you think in the comments below or on Facebook and Twitter.