New "Rock of Ages" trailer has Tom Cruise and Catherine Zeta-Jones headed for a musical showdown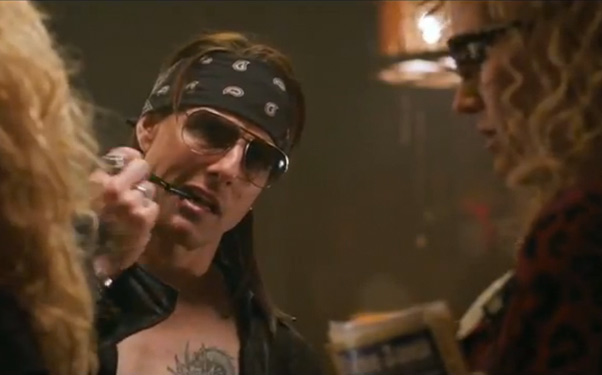 Posted by Terri Schwartz on
The week that Tom Cruise makes his triumphant return as Ethan Hunt in "Mission: Impossible — Ghost Protocol" is the same week that he makes his most dramatic — and hilarious — transformation since he turned into a Diet Coke-drinking, hip-hop-rapping overweight movie producer named Les Grossman in "Tropic Thunder." His "Rock of Ages" onstage rocker, Stacee Jaxx, has the longest (and dreamiest) hair we've ever expected to see on him, though the whole signing a groupie's boobs thing isn't too far off.
The adaptation of the hit Broadway musical doesn't actually star Cruise as its lead, though. That role goes to Diego Boneta, who thus far has only really starred in teen shows like "Pretty Little Liars" and "90210," but who is playing Adam in the recently delayed adaptation of "Paradise Lost." The leading lady is "Footloose" star Julianne Hough, who plays Boneta's love interest.
Needless to say, we aren't going to be tuning in for these relative unknowns. We're going to be watching for Alec Baldwin, Paul Giamatti, Bryan Cranston, Will Forte, Russell Brand, Catherine Zeta-Jones and, of course, Cruise. Kevin Nash, Malin Akerman and Mary J. Blige help sweeten the deal too.
The movie looks like a nice, tongue-in-cheek take on the musical genre, and our soft spot for '80s classics also helps a bit. "Rock of Ages" hits theaters on June 1.
What did you think of the "Rock of Ages" trailer? Tell us in the comments section below or on Facebook and Twitter.