Real-life Jurassic Park coming to New Jersey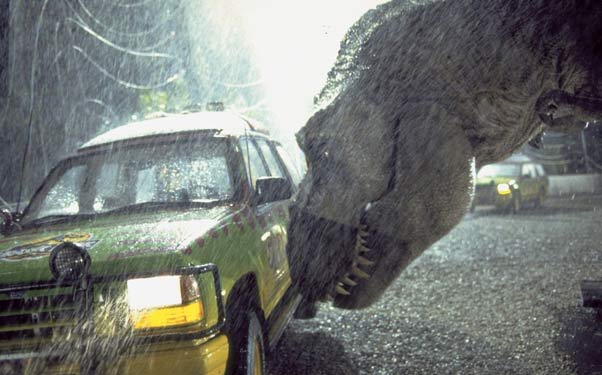 Posted by Terri Schwartz on
Consider us actually happy in this situation that an upcoming New Jersey theme park is featuring animatronic creatures instead of real ones. Jersey has enough problems to deal with.
Field Station: Dinosaurs is a new 24-acre park set to open on May 26 in Secaucus, New Jersey. The exhibition will feature 31 life-sized, animatronic dinosaurs residing in a natural setting in the New Jersey Meadowlands, as well as an interactive dinosaur petting zoo. It's the closest thing we have to a real-life Jurassic Park, and it sounds a heck of a lot safer. Read: no chance of a T-Rex breaking out of its paddock and killing everyone.
Yesterday the park unveiled a 14-foot T-Red that will be one of the dinosaurs it features. The dinos aren't just animatronic; they can move and interact with their surroundings just like actual creatures. Hopefully these critters don't somehow get magically turned to life, though, because there will be no concrete or fences at Field Station. At least this guy looks relatively friendly.
Field Station will be open from May through Thanksgiving every year. Admission will be $20 for adults, $17.50 for children under 12 and free for children under 2.
Would you want to visit Field Station: Dinosaurs? Tell us in the comments section below or on Facebook and Twitter.