Ralph Fiennes on acting (and directing) Shakespeare in "Coriolanus"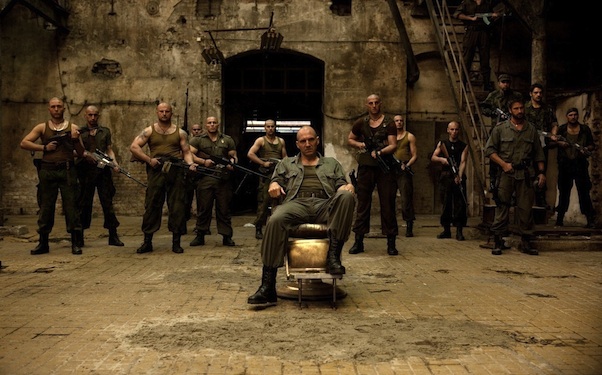 Posted by Matt Singer on
Actor Ralph Fiennes has played some powerful men: lords, dukes, the Greek god of the underworld, even the most evil wizard ever. But in his new movie, an adaptation of William Shakespeare's "Coriolanus," Fiennes plays his most powerful role to date: film director. When I asked Fiennes how he liked sitting in the director's chair for the first time, he described it as something of a mixed bag. "It was scary and sometimes a headfuck. I knew it would be." he said. "But I also knew it was possible. You just need to have the time and the support system. But unquestionably it was a challenge, especially in bigger scenes. Those were very tough days."
The tough days produced a tough, intense film, one that doesn't look like your typical Shakespearean adaptation — unless my memory's spotty and I'm just forgetting the other Shakespeare movies with brutal and surprisingly badass modern warfare scenes to rival anything in "The Hurt Locker" or "Green Zone." Fiennes and screenwriter John Logan preserved much of Shakespeare's original dialogue while updating the setting, teasing out fascinating twenty-first century relevance in a text hundreds of years old.
Fiennes stars as the title character, a fearsome Roman general who gets exiled from his home and winds up forming an unlikely alliance with his former enemy, the Volscian general Aufidius (Gerard Butler). The film opens with a riot, where the disgruntled lower classes revolt against the government and Coriolanus and his black-clad mlilitary men are called in to restore order. The whole sequence, which was shot months ago, resonates with weirdly clairvoyant shades of the Occupy Wall Street movement.
In our brief but stimulating conversation, Fiennes and I discussed the movie's timely political commentary and his approach to the muscular action scenes, and we even spent a quick minute or two on "Skyfall," the upcoming James Bond film by director Sam Mendes in which the actor plays an as-yet-undisclosed role ("I don't get laid, that's for sure," Fiennes teased). As I sat down for our chat, Fiennes was thumbing through a recent issue of Cineaste with a "Shakespeare in the Movies" supplement, so I decided to start my questions right there.
Do you have a favorite film of a Shakespeare play?


I haven't seen it in a long time, but the Russian director Grigori Kozintsev did an epic black and white "Hamlet" with a Russian actor called [Innokenti] Smoktunovsky that was amazing. I also love Peter Brook's version of "King Lear" with Paul Scofield. It was fantastic; shot in Denmark, I think. There's a brilliant opening with the camera tracking along all these static faces and the camera just tracks and tracks and tracks. Then it cuts to the back of this huge vertical shape, like a tree trunk or a sculpture. You see all these men facing it in a stone room but you don't know what it is. Then you cut around to the front, and it's actually a tall throne with Scofield sitting with this huge fur against his head. He just stares and stares and there's this long pause. Then suddenly he says "No, it is our fast intent, to shake all cares and purpose from our age, conferring them on younger strengths…"
I'm sensing you've seen that a couple times.
[laughs] Yeah, it's brilliant.
Well let's talk about your Shakespearian adaptation. As I was sitting in the next room waiting to talk to you, I was looking at a pile of newspapers and every one had Occupy Wall Street on the front page, all with pictures that look like scenes from your film. It's almost like you were looking into a crystal ball when you made this.

It's weird. I just think "Coriolanus" is always quote-unquote relevant. The power play, the politics, etc. But now with everything going on, Egypt, the Middle East, what's happening in Syria — I mean that's a Coriolanian regime. Coriolanus is in the Syrian army somewhere.


But it is a tragedy; it's the tragedy of Coriolanus. He's not trying to be a dictator. He's a soldier that doesn't tolerate a democratic vision, but that's because he's a soldier. You can only understand him if you understand that he's a part of that military ethos. I think military people can have a sense of that otherness from the civilian world, and in Coriolanus' case, it's extreme. But it is a man trying to hold to a sense of his warrior's honor, which is completely out of place and doesn't work, particularly in his reluctance to negotiate. And the tragedy is he agrees to negotiate when he shouldn't and it's counterproductive in every way. But I have a sympathy for him.
Why is that?
I suppose he has the tragic flaw of arrogance or pride, but he's a man trying to hold to who he is. And that always moved me when I saw it. He's this remote, flinty, confrontational person. In a way, you weep for him because he's so alone. He's incapable of embracing any kind of intimacy with anyone, except with his enemy Aufidius. And that's the closest he gets to any kind of meaningful, intimate interaction.
You played the role on the stage about a decade ago. Has your interpretation of the character changed in that time?
Probably it hasn't essentially changed, but the film gives you opportunity to show things that are not in the play that help the audience build a picture of who this person is. I can show the "remove-ness" of him, which I'm drawn to, in his exile, in his walking or camping out in the swamp. I loved doing those things.
I'm guessing there's probably a little more action in this film than there was in the stage version you did.
Yeah, but in Shakespeare's play, within the first 20 minutes, there's a war. We pretty much followed Shakespeare's structure, but we actually simplified the battle from the play to the film. In the play, Coriolanus captures the town, then goes out from the town into the plain to help Cominius win another battle and then he fights Aufidius. I mean, it's relentless, and that's all just the beginning of the play.
I think Shakespeare's trying to say "You think you don't like him, but look at what he is. He has got the most extreme, physical warrior's courage you'll ever see. Now try to figure out what we're going to do with him." I think there's a mischievous side of Shakespeare showing us different sides of things, presenting us with a problem of behavior. How do we respond to that?
The battle scenes look incredible. I'm sitting there going, "Wow, this is like 'The Hurt Locker.'" Then I looked at the credits and I realize your director of cinematography was Barry Ackroyd, who was the cinematographer of "The Hurt Locker." And you were in that film as well.
That's true, but people latch on to Barry's great skill for that kind of cinematography and ignore the quieter things he does brilliantly as well. Barry works a lot for Ken Loach. The simpler scenes are beautifully shot. People don't notice him there. I wanted that kind of cameraman.
The other very visual part of the movie that I responded to were the close-ups. They felt unusually close, at least to my eye, and very intimate in a way that also makes a movie different than a play, because you could never get that close to an actor on the stage. In that sense, they're actually very cinematic close-ups.
Some people say to use your close-ups sparingly. Don't overdo them. But a lot of them were just instinctive gut choices on the day. I had the camera and could have shown a lot more, but the drama is happening inside people's eyes when they're speaking. When Brian Cox says "I know what you are, I've got your number," and he leans in, you want to be in close. I was constantly making that choice. There are wider shots but, for key moments anyway, we stay close. The face is a landscape on film.
I've seen great actors do not-so-great versions of Shakespeare. Is there a separate set of skills an actor needs to do this kind of work?
Shakespeare's use of English is increasingly alien. You start a sentence and you have all these clauses before you get to where the sentence is to arrive at. In some pieces that's truly challenging. Other times, he writes very simply. Sometimes I think people come to Shakespeare with an inhibition or fear. I think that's more the problem than they don't have the skills to do it.
They just get intimidated?
It's often simpler than people think.
They build it up as this grand thing in their mind.
They build it up that it needs some kind of weird inflection. It doesn't. There are certainly heightened moments when there is a musical quality. I've just done Prospero in "The Tempest," and there are a couple places, certainly one famous speech where he lets go of his spells, where there is that sort of structure, a build that has to happen. And if you flatline that in a kind of nonchalant way, it disappears. So there are certain so-called "arias," that are there. Those are often the great passages. But it has to come from a real place. One of my notes to myself and to everyone on "Coriolanus" was "Keep it simple." Don't over-inflect. The speech needed to be naturalistic and simple and accessible as much as possible.
"Coriolanus" opens tomorrow in limited release. If you see it let us know what you think. Leave us a comment below or write to us on Facebook and Twitter.